5 Reasons to Book a Fly Cruise Deal for your Next Holiday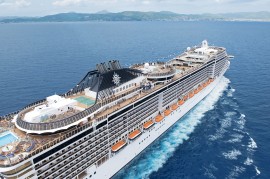 Holidays are the perfect time to de-stress, unwind and enjoy some much-needed R&R. But booking a holiday can be extremely stressful!
Why not book a cruise deal and let the professionals handle your itinerary, accommodation, meals and recreation?
Here are 5 reasons why you should book a fly cruise deal for your next holiday:
1.       Stick to your budget with ease
Ever accidentally blown your budget while globetrotting on the holiday of your dreams? Holidays are expensive, and they can get even more expensive when you're relaxed and enjoying yourself in expensive tourist areas. Before you know it, you've run your credit cards up the wall and will have to do some serious frugal living when you return home.
By booking a combined fly cruise deal for your next holiday, you can wrap up almost all of your expenses into a single, easy to manage price. Remember, a fly cruise deal includes your flights, accommodation, and travel costs between locations. It makes budgeting a breeze, and more often than not you'll end up with a better deal, too.
 2.       See the world and unpack only once
While on the road, packing, unpacking and staying organised are some of the biggest stressors that can put a damper on your holiday. Making sure you know where your wallet, phone and passport are when you're crossing borders and jumping time zones can be more trouble than you might expect!
One of the occasionally overlooked perks of seeing the world on a fly cruise deal is that once you're settled into your cruise cabin, you'll unpack just once. It doesn't matter if you cruise to five cities or twenty – your accommodation travels with you!
 3.       Don't get buried in paperwork
Planning a holiday can almost be as good as taking one. Researching the cities you'll visit, your essential sight-seeing stops, even how you'll spend your down time.
But there's a less escapist – and far less interesting – side to travel planning. This includes worrying about flights, accommodation, even budgeting. But with a fly cruise deal, your cruise line will take care of all the boring stuff for you. This way, you can focus on everything you want to do on your holiday, not the bits and pieces that have to be taken care of.
4.       See the world in a short space of time
With a new port – usually in a different country – every couple of days, it doesn't matter if you take a short or long cruise. You'll be seeing many different parts of the world, in a comparatively short period of time.
Even better, with a fly cruise deal you can fly to whichever part of the world you want to see the most, and then set sail for all of its hidden corners. With an ongoing journey from port to port, you'll see cities and small towns you may never have had the opportunity to explore otherwise.
5.       Enjoy the highlights, with none of the lowlights
Cruises are often so relaxed and laid-back, it can be easy to forget just how much effort and planning goes into each one. But most cruises are executed with almost military precision – you'll be hard-pressed to find a dull moment for your entire trip. With a fly cruise deal, the planning is even more extensive. Your flights will match up seamlessly with your cruise departure date, giving you just enough rest and relaxation time before setting sail. The ports will be carefully chosen, and land excursions planned so that you experience the very best the world has to offer.
6.     *Bonus reason: Great travel deals
Exploring so many countries and experiences must be expensive, right? Big cruise companies like MSC Cruises offer heavily discounted fly, land and cruise packages to encourage holidaymakers to experience locations, such as the Mediterranean and the US at very affordable prices.
Before you book your next escape, consider a fly cruise deal and discover a more relaxed way to travel.