Cruise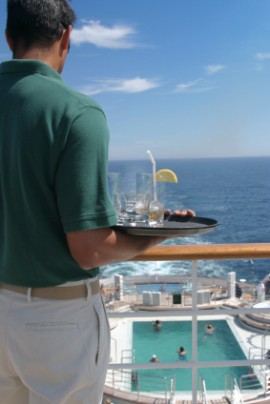 Cruising offers fabulous value for money.   Generally the best deals and discounts can be found through your travel agent or cruise specialist as some major cruise lines do not show all of their discounted prices on their websites.  Many of the best deals tend to be last minute when the ships try to sell 'distressed capacity' in order to fill their ships.  So, if you don't mind being spontaneous, this option can save you a lot of money. Because of currency fluctuations prices and specials can change daily, so that amazing special you see today, may not be avaialble tomorrow.
The benefits of cruising are terrific – you have paid for most of your holiday upfront – accommodation, food and entertainment.  Once on-board, you need to allow for alcohol, shore excursions (optional) and generally tips. It is important with cruising to compare apples to apples.  Ships and cabins vary greatly so please do your research.
Cruise Specialist Travel Agents
www.cruisesalefinder.com.au is a unique cruise specialist which seeks out the best sale prices for Australian cruise lovers. They are backed by the strength of iMall Brands Ltd, an internet travel leader which books tens of thousands of travel reservations each year. This level of booking volume enables them to negotiate the best deals available.
The Cruise Specialists is a specialist Australian based cruise travel information and reservations service.  They offer great deals for you to view on their web-page.  The Cruise Specialists also have a monthly newsletter featuring hot last minute specials with limited berth availability.  They also offer Seniors $50 off each booking on all cruises.
Ecruising has a cruising loyalty program, 'Posh' where the more you cruise, the more you save.  Frequent cruisers may receive free travel insurance and onboard credits.
Travel the World specialises in luxury cruising.  The sell 5 star + cruise lines such as Holland America, Silversea and Windstar.  They have access to regular specials and discounts on these cruise liners.
Cruise company websites
Holland America.  We love Holland America.  Luxury cruising at its best with 'world class everything'.  They have a special offers page displayed in Australian dollars.
MSC has a specials page on their website with great deals including kids cruise free – why not take the Grandkids?
P&O Cruises offer excellent early bird specials and offer many cruises for Australia and the South Pacific on their ships, Pacific Dawn, Pacific Sun, Pacific Jewell and Pacific Pearl.
Royal Caribbean is one of the worlds largest cruise companies.  They offer a 'hot deals' section on their website.
Cruise magazines and publications
Cruises with fresh articles and the latest cruise news, Cruises.com.au will provide you with all the ins and outs of the cruising world.  Browse through stunning cruise destinations, cruise ships and their features before you book your next holiday on the water.  Subscribe now to Cruise Passenger magazine and receive 50% off the normal subscription price exclusive to NewYoungTravel members.
Intelligent Cruiser is an ebook written by an ex cruise director. He shares many secrets on how to save money on shopping, alcohol, shore excursions, water etc.  He also shares with the reader how easy it is to receive cabin upgrades, become a VIP and obtain a whole range of benefits and discounts.   I have personally read the book and gave it to my cruise addict girlfriends to look through (they would cruise around 3 times a year) and we all agree there are some great suggestions in here.  Even as seasoned travellers, we thought there were some great tips in the book.  Bronwyn