Why You Should Consider A Cruise For Your Next Trip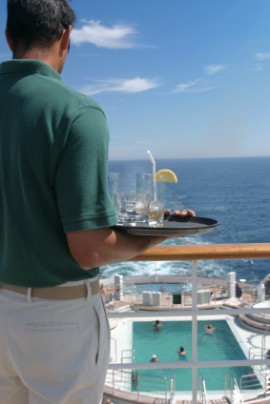 These days the phrase 'all at sea' seems to have a different meaning, as more and more people take to travelling by ocean liner, bagging themselves a bargain on cruise deals, rather than reaching to the skies. Who is a cruise for? It's for you if you have a curiosity for the world around you, a passion for people and, why not, a hearty appetite, all combined with a spirit of adventure. The good news, life puts no age limit on any of these things. It's time to rock 'n' roll.
Seeing the World Life is short, so we should pack in as much adventure as we can, and that's perfectly possible. Feel as if you're stuck on the oceans, gazing out into sea with nothing to look at? Nope, that's not going to be the case. While out on deck, you may see a variety of marine life, when normally you'd have to pay extra to see dolphins, whales, seals and other sea life. That's not so on a cruise. If you're lucky, they all come out for free. If not, there's always plenty of inboard entertainment, such as shows, dancing, casinos and even an on-board cinema.
You wouldn't be short of somewhere to talk about, that's for sure. Cruises give you the opportunity to explore places that you probably never thought of even going to. They expand your horizons. Who wants to be stuck on a long haul flight with boring, irritating passengers, when you can step out on to the deck and admire the beauty of the world's oceans as you put Australia behind you for a spell and sail towards Europe or a Caribbean destination?
Meeting people One of the cool things about this world isn't just the places, but the people in them. Cruises bring together a quirky hotchpotch of people from different walks of life. Travelling and eating together creates lots of unusual and unlikely friendships. Some people, particularly honeymooners, become such good friends in the course of the itinerary that they decide to reunite years later on another cruise. Alternatively, you may set out on a cruise single but return with someone who you may wish to spend the rest of your life with.
Enjoying the food A cruise is a foodie's dream, with kitchens open round the clock to cater for anyone. We're not talking junk food either — of course, there are burgers, pizzas, etc. if you crave them— but quality cuisine. It's not out of the ordinary to be served lobster, depending on your cruise operator. Remember to brush up on your chat, as you'll be sitting down with (other) worldly diners who are likely to become your friends. Wouldn't it be nice to say you met over a lobster!
What's so bad about cruises? The good news is that there's nothing entirely horrible about cruises. The points below might niggle you slightly, though:
The time away Though there are short cruises, you can be away for a few weeks. That might not appeal if you have family to return to. You're also likely to spend days at sea. However, this isn't necessarily a bad thing. There's plenty to do on board a cruise and the time on the ship can provide you with terrific opportunities for reflection. The sea… the destinations… they can all inspire you. When you're back on home soil, you may even consider a life overhaul, now that you've had a taste of what's out there.
Spending time in ports You might prefer to spend a lot of your time sailing, rather than anchored in the docks, but that just gives you more time to explore, more time to get more experiences under your belt.
There's been a lot said and thought about cruises in the past, but these days they're more popular than ever. One thing's for certain, though: you'll feel alive!