10 Things To Help You Save Before You Travel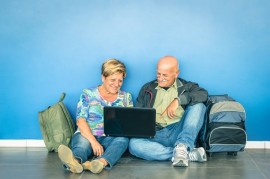 1.    Create a budget and set a savings goal.
The boring stuff – financials – but the most important place to start.
Working out how much you will need for your travels is necessary so you can eat, drink, sleep somewhere, get around and enjoy yourself.
If you have saved already, that's a huge head start and a luxury some don't have. If you don't have funds readily available to travel, set up a budget to work towards a savings goal.
2.    Be mindful of foreign exchange rates.
Not something that will save you travel money in the short term, but a good exchange rate can make a huge difference and is a useful consideration for working out your travel budget.
You won't need to save as much as you think (see item 1) if you're travelling to a country where you can get great value or "bang for your buck". In popular Asian destinations such as Thailand, Vietnam, India, and Bali – you will be amazed at how far you can stretch your hard-earned Aussie dollars. Professional travel blogger Anna Phipps wrote this post on how to live in paradise on 10 GBPs a day. (That's about $19 AUD).
3.    Book flights in advance to get a better deal.
Using popular flight comparison sites such as Travelocity and Expedia can unearth some nice discount flight deals.
The general rule of thumb: as soon as you have a travel date in mind, start shopping around for flights. The difference a single day makes, for the same destination with the same airline can save you hundreds of dollars!
4.    Sort your accommodation well before you leave.
Decide where you are going to stay when you travel – generally, you will get a better deal the further in advance you book. Booking.com is a good place to start.
For the more adventurous or those on a tight budget, Couchsurfing is a fantastic community website that provides FREE accommodation to travellers worldwide.  
5.    Shop around for a seniors travel insurance policy.
A little investment in a travel insurance policy can save a lot of money in the long run. Medicare won't cover you outside of Australia nor will your average private health insurance. Some travel insurance policies ensure senior Australians over the age of 65, up to the age of 84. Avoid paying a $100,000 AUD medical bill in the United States or $40,000 AUD for a medical evacuation from Bali.
6.    Sell your car, motorbike, or scooter.
Don't like the idea of your car sitting around not being used for an extended period of time? Or someone else driving it when you're away? Selling your vehicle can quickly make you a considerable amount of money, to use on your holiday.
Websites such as Gumtree allow you to put up a free, local ad for your car. Check out the 'What's Your Car Worth?' tool to get an idea of how much you should be asking in terms of price for a private sale.
7.    Sell stuff you don't need. If you're going on a long term holiday or even working abroad, you probably won't need that spare set of golf clubs or that bar fridge. Gumtree is the answer again here because it's free to place an ad. There's plenty of people looking for second-hand goods for the right price.
8.    Volunteer or work overseas.
Again, not something you can do immediately to save money, but if you're a forward-thinking traveller, work exchange programs can be a rewarding experience and often provide a free bed and meals.
It's not everyone's cup of tea, but you can make a difference to the lives of people who are less fortunate in the short term, to save $ and extend your travels for the longer term.
For those who don't have a home base setup, with the right working visa and paperwork, working overseas is a great way to meet people. It can also help you stay longer in a country you have fallen in love with.
9.    Lease out that spare room.
If you're fortunate enough to own your home outright, this should help you save before you travel. If you're renting, this is usually a larger expense that can be reduced by renting out a spare room.
A flatmate can help split rental costs and even bills. Those savings will mean more money in your travel budget.
10.    Keep an eye on the prize.
"Travel is the only thing you buy that makes you richer " – Unknown
When you have a goal or a dream to travel somewhere, it's easy to save. You will find a way because the reward will be worth it!