Carry On Baggage Limits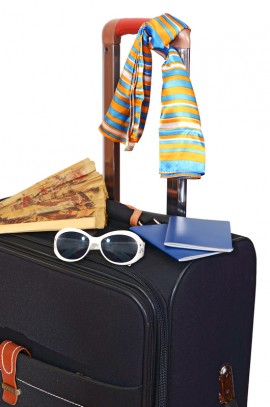 What's your traveller profile? Do you arrive at the airport, safe in the knowledge that your luggage, as always, will be within the airline's carry on baggage limits and will fit easily into the overhead locker, or beneath your seat?
Or, do you pack everything (including the kitchen sink), "just in case" and find yourself hoping that they won't check your hand luggage, because it might be 1 or 2 (or 5-10kg) over and probably wouldn't fit into the metal frame that generally sits alone and underutilised at most airport gates?
If the latter describes you, then be prepared – airlines globally are reducing their carry-on baggage limits and employing extra staff to check whether that backpack or small suitcase fits both the size and weight limits.
Airlines worldwide have had "ancillary" charges for checked baggage for several years and this has, not surprisingly, had the flow-on effect of passengers trying to reduce or avoid these costs by bringing more on board with them. In conjunction with Allianz Insurance, we bring you a guide to the latest rules and regulations and helpful tips on how to avoid exceeding weight limits.
The crackdown began, when some of the American airlines reduced their luggage allowances (for carry-on bags). There are two low-cost American Airlines, Frontier and Spirit, that now charge for the privilege of bringing carry-on luggage – Frontier charges $USD25/bag at time of purchase, which rises to $USD30 at check-in, whilst Spirit charges $USD26-35 and $36-45 respectively.
Since then, Airports Company South Africa has introduced hand luggage restrictions for all flights into and out of South African airports, Air Canada has trialled additional gate staff to check traveller's hand luggage meets requirements and Australia too, has jumped on board.
Jetstar cut its hand luggage allowance from 10kg to 7kg (total combined weight) in October and has employed 'cabin baggage officers' at the gates at Melbourne, Sydney, Brisbane, Cairns and Gold Coast airports, whilst Tiger has also begun positioning extra staff at the gates.
This brings Jetstar into line with Qantas and Virgin Australia, which already had 7kg limits.
Why Now?
Many reasons have been suggested as to why the airlines, after many years of having hand luggage policies that were largely ignored by both passengers and staff, have increased their vigilance.
Some travel commentators cite the cost of fuel – the heavier the plane, the more fuel is required.
Others point to the delays caused by boarding and disembarking as passengers try to cram oversized bags into overhead compartments, or get them out at the end of the flight when they're wedged in tightly.
Yet others refer to the increase in complaints from other passengers who have done the right thing, only to find that there is no space for their carry-on luggage because the locker above their seat has been filled with another passenger's bags, sitting two rows back.
Then, there is the risk of injury. A man in the US has recently sued Southwest Airlines for $USD49,000, following a compressed disc, caused by another passenger's luggage falling on him, whilst he was seated BEFORE take-off.
The Flight Attendant Association of Australia (FAAA) has also launched their own campaign, calling for more stringent policing of cabin baggage allowances, stating that hand baggage is one of the most common causes of injury to flight attendants and also to some ground staff. The FAAA goes further to say that some of these injuries have been career-ending and that cabin crew also have to withstand stress and pressure from passengers wanting to stow oversized baggage, which often then leads to abuse from other passengers.
What are the consequences?
You might think that this is just a storm in a teacup, but many frequent travellers have taken to the web to express their shock at the size, weight and number of cabin bags some passengers try to bring on board.
Spud Hilton, Travel Editor of the San Francisco Chronicle, created the hashtag #CarryonShame and encouraged the social media world to photograph and tag the luggage of people who are clearly ignoring the rules.
News.com.au even ran an article on some of the items passengers expect to take onboard Jetstar flights. Among them were car tyres, wheelie bags filled with dumbbells so the passenger could keep up his fitness regime, a 40-inch plasma TV, a car windscreen and even a large fish tank, filled with water and live fish!
And the airlines to are implementing penalties. Qantas, Jetstar, Virgin Australia and Tiger all now have penalties that are payable if you have to check your cabin baggage at the gate. The Qantas fee is a minimum of $40, with Jetstar charging up to $160 for international flights.
At the time of writing (February 2015), these were the Australian baggage allowances:
 

 

No. of carry-on bags allowed

Total Weight Allowed

Total Size Allowed

Penalty to check oversize/overweight carry-on

Qantas

Domestic

Max. 2 per person

7kg per piece

2 x 105cm bags or 1 x 105cm bag plus 1 x 185cm non-rigid garment bag or 1 x 115cm bag

Minimum $AUD40

International

Max. 2 per person

7kg per piece

1 x 115cm bag or 1 x 185cm non-rigid garment bag (Economy); 2 x 115cm bags or 1 x 115cm bag plus 1 x 185cm non-rigid garment bag (First/Business/Premium Economy)

Jetstar

 

Max. 2 per person

7kg per piece

1 x 115cm bag or 185cm non-rigid suit pack (Economy); 2 x 115cm bags (Business)

$AUD50 for domestic Australian and NZ flights; $AUD160 for international flights to/from Australia.

Virgin Australia

Domestic

Max. 2 pieces

7kg Total Combined Weight

2 x 105cm bags or 1 x 105cm bag + 1 x 185cm non-rigid garment bag

Min. $AUD70

International

Max. 2 pieces

7kg Per Piece

1 x 105cm bag (Economy/Premium Economy); 2 x 105cm bags (Business)

Tiger

International

Max. 2 pieces

10kg Total combined weight

2 x 115cm bags

$AUD70-85 depending on the flight time
Most of these policies also allow for a small additional item, such as a handbag, laptop (in a slim-line case), coat, umbrella or approved duty-free goods, but these are included within your total weight allowance.
Pros and Cons of the Carry-On Crackdown
So, you've been used to packing whatever you wanted for many years and you now have to put more consideration into your packing. You might also have to do laundry a little more often (or pay someone else to do it for you).
You could consider these to be 'cons', but think of the 'pros':
•    You won't risk injuring yourself, carting overweight luggage around for the entire trip;
•    You are less likely to need to make a travel insurance claim, due to baggage loss or theft – pickpockets target those with the most luggage because they have so much gear to keep an eye on!
•    You'll have room in your bag to bring home souvenirs of your travels!
Tips for Packing Lighter
Remember the "law of travel physics" – the contents of your bag will always expand to fit space available, so … buy a smaller bag!
Learn to fold and roll your clothes and be sure that they can be 'mixed and matched'.
Lonely Planet suggests a trilogy of socks, underwear and shirts … then you can wash one, dry one and wear one.
Try to pack multi-function items (e.g. a sarong, which could be used as a skirt, a blanket, a bag, a towel, a pillow etc).
Don't take more than two pairs of shoes and buy your toiletries when you get there.
Also, use electronics wisely, replacing physical guidebooks and reading material with an IPAD or Kindle.
If you're going on a cruise, gents can hire their tuxedoes for formal nights, ladies can take one LBD (Little Black Dress) and accessorise with different scarves, shawls or jewellery – or you can skip the formal nights altogether and go to the all-you-can-eat buffet!
Of course, you could also take one of two extreme approaches – the guy who got caught with 70 items of clothing in his cabin baggage, who took them out and wore them all, or the travel blogger who took the 'no-bag' challenge, travelling through 12 countries for six weeks with only what he could carry in his pockets!
Whatever you decide to do, remember the boy scout motto – always be prepared!