5 Compelling Reasons To Take Travel Insurance For Seniors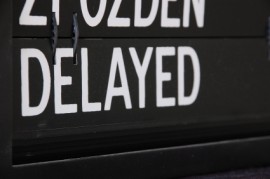 If you add up all of the money you're spending on that upcoming holiday.  Between the airline tickets, the hotel rooms, the gourmet meals, and all of those fun activities, you're probably spending a bundle.  Travel insurance can provide a safeguard for ANYONE who's spending all of this money, but it's even more important for seniors.
Here's why:
1.  You'll be covered if you get sick or injured
Did you know that your health insurance isn't likely to cover you if you're out of the country?  So, if you have an accident while skiing or get food poisoning at that unique restaurant, you'll be on the hook for all of the bills.  And, if you're holidaying somewhere that doesn't have great medical facilities, you'll have to pay to be transported somewhere else.
Want to avoid financial ruin over an illness or injury?  Just get some travel insurance!  That way, if something goes wrong, you won't be left footing the bills.
2.  You won't have to worry about lost luggage
If you're like most senior citizens, you have some important stuff in your luggage — like medications or clothes that you can't afford to go out and replace.  So, if your luggage gets lost or stolen along the way, it can turn into a major emergency!
Luckily, though, your travel insurance company will take care of everything.  You should be given money to go out and replace the things in your luggage, so you won't have to try and figure out how to make do without them.
3.  You'll be reimbursed for things that are stolen
Unfortunately, sometimes, seniors can be a target for bad guys.  So, if you get pick-pocketed overseas or have your bag snatched, you won't have to worry about losing everything.  Instead, your travel insurance policy will kick in and cover the loss.
4.  You won't take a hit for a cancelled flight
No matter how careful you are about planning ahead, you can't control the weather, equipment issues, or anything else that cancels your flight.  Unfortunately, though, a cancelled flight isn't just an inconvenience.  If you've pre-paid for things — and don't have the option to cancel them at the last minute — that cancelled flight could cost you a lot of money!  This is particulary more so with budget airlines – one of the cons of cheap flights, often they are not contractually obliged to find you a hotel or another airline.
If you're like most senior citizens, you're living on a fixed income, so the last thing you can afford is to waste a bunch of money!  Fortunately, your travel insurance policy will kick in once your flight status officially switches to "Cancelled".  Your insurance company will pay for any hardships that your cancelled flight caused, and you won't have to worry about your carefree holiday turning into a financial nightmare.
5.  Travel Insurance is affordable
Senior travel insurance policies are more affordable than you think, so they won't put a major strain on your fixed budget.  As an added benefit, if you're one of those senior citizens who's lucky enough to spend a lot of time travelling, you can opt for an annual travel insurance policy.  That way, your payment will cover ALL of the trips you take in a 365-day period, and you won't have to worry about setting up a travel insurance policy for each individual trip that you take.