Find Hotel for Cheap Deals For Senior Travel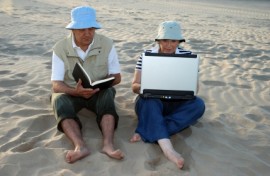 Luckily for the web-savvy traveller, it's easier than ever to find a hotel for cheap rates abroad, in many different countries, if you know how to take advantage of online booking through companies that offer discounted prices to their customers over the Internet.  Being a senior traveller means that you may have a little extra time on your hands to research.  It is well worth it if you can.
The web makes it easy to shop around, so you can purchase a hotel room for the lowest price possible. Because many hotels now operate through websites that find you the best travel deals, it's definitely possible to compare prices offered by the various hotels and take advantage of the competition between establishments.
Searching for hotel deals on the web is a great way to evaluate prices and learn what's available at any given moment, but often you can even use the Internet to book directly, through the hotel you're interested in. The hotel's own website can make your life much easier and may offer a discount because you're skipping the middleman to purchase a room right from the source.
Online sales tend to be cheaper all around because they offer good deals to people who are willing to plan ahead and book long before they plan to travel. You beat the crowd and get in ahead of the game before rooms are few and far between. When hotels are guaranteed a certain amount of bookings for the season, they can provide competitive prices.  It also helps them manage forward cash flows in an uncertain economy.
But the reverse can also work to your advantage. If certain hotels have last-minute cancellations or availabilities, and you're ready and willing to hop on a plane and travel almost on the spot, you can grab fantastic rates as well because hoteliers want to fill up rooms rather than leave them empty, without any paying occupants.
Online booking can save you big bucks once you arrive at your destination as well. During the tourist season, expecting to walk off the street and find a room for a reasonable rate may only going to disappoint you. You either won't be able to find a room at all, or it will be much too expensive.
If a hotel has rooms ready to go, it will be reserved for online sales. So if you are a last-minute kind of person, don't even bother to try visiting an establishment in person to find a room. Instead, locate the nearest Internet connection and book the room online! Not only will you get a really good price – you'll actually get a room.
Nowadays there are a lot of quality travel websites that let you book hotel rooms at discount prices in worldwide destinations. Many of these companies also offer virtual hotel tours, list facilities available in the rooms, and even provide hotel reservation tips.
Online booking boasts many benefits you can't enjoy when making reservations via the traditional route, in addition to the money-saving side of things. For instance, an online reservation website may have hundreds of hotel listings so you can choose from a wide range of hotels, room sizes, and amenities.
And these sites usually give you access to additional hotel discounts, special offers, combination deals, and hotel events, making it easy to put together an affordable package of discounts. The whole process usually goes very quickly and smoothly.
But make sure you don't choose just any hotel, based solely on the pictures provided online, and the low price. The one disadvantage of online shopping is the inability to determine whether or not a hotel really is clean, safe, and worth the price. As with any major purchase you make, research the hotel you're considering before committing to a booking – read reviews from fellow travellers who have stayed at the same place and look through unbiased opinions on the hotel from various sources. Many websites offer information from other globetrotters that will help you determine whether or not a particular lodging is acceptable or should be crossed off your list of potential accommodations.
Anytime you book discount hotel rooms online, make sure you read the fine print: check if the rates change for an extra person (this can be a real price increaser in my experience) and if breakfast, parking facilities, and hotel shuttle services are part of the deal. Read the hotel's cancellation policy to know what you're getting into when you book and determine if there are any special added rates you need to look out for.
With this knowledge in hand, you should never have to pay full price for a hotel room again. The Internet offers the experienced and inexperienced traveller alike an excellent opportunity to enjoy a great holiday for less – if you're willing to give it a try.  I have built an ongoing list here for you to refer to.  Here are some of the better-known ones.  Please let me know if you find a good one too.  Click here for the list