Top Travel Review Sites For Seniors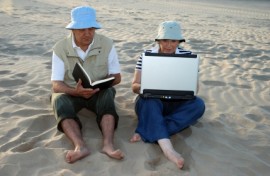 With so much information available on the Internet today it can be difficult to make decisions. It is very easy to become overwhelmed with the level of choice available. By researching through top review sites you can make a decision based on the experiences of others. Review sites can half the amount of time you spend on research, leaving you more time to enjoy your purchase.
In this fast-moving digital age, we want results quickly and we want results that work. At the click of a mouse, we can trawl pages of fashion, technology and book holidays. But planning your dream holiday can quickly turn into an overwhelming experience due to the amount of information available on the Internet. It is very easy to find hotels in New York City but how do you know if they are going to be any good? Many people have turned up at what they think will be a dream resort only to discover that the pool is still under construction. One way to avoid this disappointment is to use review sites and see what other travellers have had to say.
Review sites allow you to make a decision based on other people's experiences. Online reviews allow you to read information about products, services and businesses based on the experiences of other consumers like you. It is important as a consumer to know the review site you are using is genuine and that the reviews are independent. Most review sites specialise in certain areas, again helping you make well-informed decisions.
There are many review sites that can be used when booking accommodation, airfares, and tours. When using review sites to book holidays it is a good idea to look for one which caters specifically to the type of holiday you are looking at. The main one you will have heard of is Tripadvisor.  But there is an emerging market of review sites that cater to specific experiences and markets such as cruising or over 55's. For example, Silver Travel Advisor is a website which caters for mature travellers. Run by mature experienced travel industry professionals, Silver Travel Advisor encourages members to contribute impartial travel reviews, travel advice and travel tips.
For travellers over fifty, Silver Travel Advisor is an invaluable resource. The contributors to this review site understand that more mature travellers have different needs to backpackers in their twenties. You can even search for 'care assisted holidays' and 'accessible holidays' and then read reviews about others who have experienced the products and destinations offered. Silver Travel Advisor teams with a selection of mature holiday and travel companies who are committed to personal service, quality and value for money. They only recommend services which they are confident are the best.  For example, they only team with mature holiday tour operator partners who can provide the best holidays for over 50's.
Review sites are a great way for you to research your holiday – some see the research as just as fun as the holiday itself.  Some would rather spend more time on holidays or enjoying a tour rather than researching. Either way, review sites cater to both types of travellers.