Cruise Tips: How to Save Thousands on your Next Cruise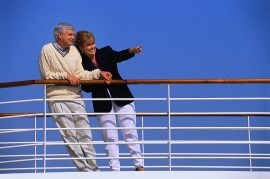 Don't bother me; I am planning my next cruise. I have just finished reading David Kirkland's Intelligent Cruiser E-book package. This eBook contains cruise tips and professes to tell you how to save thousands of dollars on your next cruise, become a cruise VIP, and receive exceptional value on all your future cruises. I've been in the travel industry a while now and been on a few cruises. I am delighted, there are things in here I didn't know about.
Background
David Kirkland is an ex cruise officer. For 10 years, his job was to get cruise passengers to spend as much money on the ship as possible. He shares his insider information in this e-book to ensure that you receive amazing value out of your future cruises. The eBook is full of useful tips and actions that you can take to do anything from slashing the cost of your spa packages, working on the ship to gaining VIP status, and dining with the Captain.
Premise
Intelligent Cruiser is based on the fact that cruise companies make the majority of there once you board the ship. It gives you an insight into how the cruise industry works and assumes that the cruise ship passenger is spending way too much on anything from water to shore excursions.
What's wrong with Intelligent Cruiser?
Intelligent Cruiser is way too long. You do have to go through the whole thing to get the good stuff out. He comes across as a bitter ex-employee at times and this is reflected in the tone of the book.  But it is still well worth the buy.
Why you should Buy Intelligent Cruiser
He shows you how to obtain the best value from your future cruises – this is great because you save money to spend on the things you really love (for me the local shopping).  Now, the keyword here is value. It is not about the amount of upfront money you pay for the cruise itself but ensuring that the money you spend on the ship goes a lot further. We all know how expensive it can be once you are on the ship. This is why I like the book.
This is also a lot of information about how to cruise for free by working on-board. Something that is relatively easy to do.
What you get with Intelligent Cruiser.
You receive a number of reports for this investment
•    The Ultimate Cruise Savings Guide
•    Spoil yourself with VIP Treatment
•    Truth Exposed – about drastically reducing your port expenses
•    Free Airfare for Life
•    Lower Your Cruise Fare
•    Free Cabin Upgrades
Conclusion
Want free cabin upgrades, to dine with the Captain, VIP discounts, and cheaper shore excursions? I would invest the USD37 to buy Intelligent Cruiser. I recommend this eBook whether it is your first cruise or if you are a seasoned cruiser. Your money is well spent and I consider a good investment to save money on-board. All the more money for your next cruise and shopping on shore!  Click here, to buy the book.