9 Top Travel Tips For Travelling Solo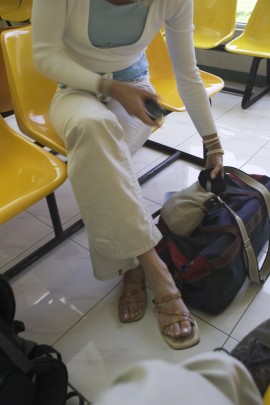 From choosing what to take and which bag to put it in, to trying to keep everything under airline weight limits, it can be a nightmare deciding what stays and what goes. To ensure your next vacation starts off stress-free, read on for nine tips that you can implement the next time you need to pack a bag.
Choose Smaller Luggage
Whatever size suitcase you have ready to pack, you're likely going to fill it up. One of the quickest and most effective ways to pack lighter every time you travel is to use a smaller suitcase. That way you won't be tempted to throw in articles you don't need just because you have the free space, and your body will appreciate having a lighter suitcase to lug around as well!
Down-Size Your Toiletries
Ladies tend to especially over-pack when it comes to toiletries.  A large and heavy toiletry bag takes up excess room in the suitcase and can quickly add unnecessary weight. Think about it — the Canberra hotel that you've booked will probably have a hairdryer that you can use, and your five-star Sydney retreat will have plenty of luxury shampoos and conditioners you can enjoy testing. Pare back the range of toiletries you take away with you, and choose mini versions of your favourite products.
Do Some Laundry While You're Away
Another great way to lighten the luggage load is to factor in doing some laundry while you're away. Rather than taking clean underwear, socks and outfits for each day, whittle the selection down and then just head to the laundry (or use a hotel's in-house service) while you're away.
Write a List and Stick to It
If you're prone to adding unnecessary luggage to your bag because you're not quite sure what you'll need while you're away, then write a list and stick to it. Carefully plan what you're going to need and don't let any extras start creeping in. Once you've spent time finalising the list, you can save it to your computer or phone and refer to it each time you travel.
Choose Neutral, Versatile Clothing
If you pick neutral, versatile clothing that will be easy to mix and match while you're away then you won't have to pack as much luggage. Select a pair of dark-coloured and crinkle-free slacks or jeans that will go with a variety of tops and you've immediately saved space and lightened your load.
Plan Your Outfits
If you plan your outfits you'll ensure that you only take clothes on the trip that you will actually wear. How many times have you included articles of clothing "just in case" you found an occasion to wear them, but found that they never actually made it out of your bag?
Add Scarves and Pashminas
A fantastic way to dress up a travel wardrobe without adding lots of weight is to jazz up your outfits with beautiful scarves and pashminas. These wardrobe staples barely take up any room, they are very light, and any outfit will benefit from a splash of colour or pretty pattern. 
Roll Up Your Clothes
A popular technique with frequent travellers is to choose clothing that won't crush or crinkle and that can therefore be rolled up in the suitcase rather than folded. Rolling clothes neatly is a helpful way to take up less space in your suitcase and allows room for other, bulkier items that you really need to pack.
Wear Heavy, Bulky Clothing While Travelling
A tried and true travel tactic for a lot of people is wearing their bulkiest and heaviest clothing while en route to their destination. You can instantly save a few luggage kilos by putting on your heavy-weight jeans instead of light, cotton slacks and wearing your bulkiest coat instead of a flimsy sweater.
About the Author: Kate Willow is a travel writer and blogger with a passion for fashion, culture and international holidays.