Las Vegas for Single Seniors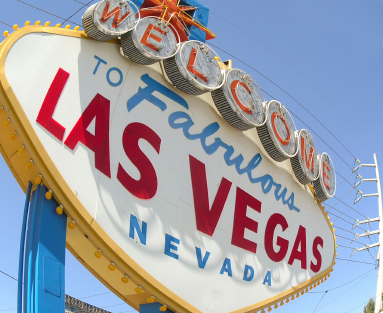 The world capital of quick and funny weddings, fast-paced gaming, bucks and hens parties and grand events, Las Vegas is undoubtedly a place where entertainment finds itself at home.
A city with plenty to do if you wish not to visit accompanied by children with plenty to do on your own if you are travelling solo. The city is a holiday destination full of life, and the methods of spending your time here do not relate to long walks or visiting cultural attractions.
In Vegas, you can virtually visit the whole world at once, as developers have stolen and rebuilt all major (worldwide) attractions, including Eiffel Tower, Egypt's pyramids, small villages such as the French and Mediterranean ones and many more.
What to visit?
Fountains of Bellagio Hotel produce a great show in Vegas every single day for 15 minutes in a row. If you're lucky to visit the city at the weekend then you can enjoy the show every hour.  At Bellagio Hotel you can also visit the Gallery of Fine Arts and the Botanical Garden, both displaying a magnificent collection.
Flamingo Garden, city's main avenue, is the place where you can delight your view with flamingos as well as many other exotic and brightly coloured birds.
The volcano at Mirage Casino erupts every night in a burst of light, so this is another attraction you should not miss.    
The official tourism site for Las Vegas is Visit Las Vegas.   When starting your research it is a resource-rich site to go for loads of ideas and lots of free entertainment and attractions.
What to Eat?
The traditional way to dine in Vegas is the buffet. This is something that all major hotels have and meals here cost about $ 30, the price for which you can choose whatever and however you want to eat. In the city, you can find traditional Las Vegas dishes which bring together all cultures and gastronomic areas.
Regardless of what dish you prefer, you can it in Las Vegas.  There are serious and kitsch eating options everywhere!
Le Village Buffet  at the famous Caesars Palace is French and you can choose between many dishes from five regions of France. It is located in a warehouse that features a reconstructed village bed, and you can eat the food in a countryside cottage, for example.
Check out the best of buffet list from Visit Las Vegas.
Where to stay?
Large, luxury hotels usually have great prices and the sky is the limit.  It really is great value if you are looking to splash out a little.
If you want to stay in a more affordable hotel, but which has a casino included as to get a taste of the local culture, then you might want to look at staying in a hotel situated on 'The Strip'.  This is where you will find old favourites like The Flamingo Hilton, Caesars Palace and Circus Circus.
If you're looking for a more luxurious facility with a pool included, than you may have a look at Resort Elara. This hotel is part of the famous Hilton Grand Vacations chain and a standard room here costs around $100.
You can find great accommodation offers and deals at VisitLasvegas.com
Annual Events
Saint Patrick's Day Festival takes place on or around March 17 and includes parties and parades, all doused with beer.
In the middle of May, you can witness Las Vegas Helldorado Days, a celebration that recreates the Wild West days. If you participate, then you will be able to watch major rodeo events, parades, a carnival and more.
In early October, art is moving to the park. This is a great opportunity for you to buy handicrafts. Some things you can purchase are related to jewelry, clothing and American-style decorative items, but also small gifts crafted by local artists.
Nightlife
In Las Vegas' casinos, all drinks are free for those who play, even if only at the poker machines. The only hook is that if you do not tip the waitress with at least $1, you're not likely to get any more later.
If you are looking to meet people, there are loads of informal meetups.  You will find anything from dating meetups, friendships and common interests.
Being on your own should not preclude you from seeing any of the awesome shows in Las Vegas.  When I travel solo, I find I get the best seats in the house, often front row.  If a show is nearly sold out, there is usually the odd single seat in the venue somewhere often the best seats in the house.  This is a real treat for music and entertainment lovers and definitely one of the benefits of travelling solo.
When it comes to nostalgia there are tributes and the real deal.  Some more recent acts to grace Las Vegas stages include, Franki Valli, Earth wind and Fire, The Doobie Brothers and David Lee Roth.    Check out Las Vegas Shows for details of who's playing.  In fact, where ever I am travelling to in the world,  for work or play, one of the first things I to is check out who is touring or playing live.