Boating Safety Checklist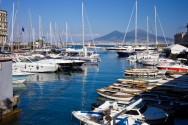 There is always a heightened sense of excitement and anticipation for boat owners as the new season for setting sail again approaches. In order to get the best out of your boating experience and enjoy some perfect trouble-free days in the water, you need to make sure that your boat is primed and ready to go. Having a boating safety checklist before the season and arranging any servicing for your boat in good time, will mean that you are ready to set sail safe in the knowledge that you and your boat are well equipped for the adventures ahead.
Spring commissioning
The first tip on your boating safety checklist is spring commissioning. There are a few simple steps to take in order to start to de-winterize your boat after it has been put away into storage during the cold months that are now thankfully behind rather than ahead.
For your spring commissioning tasks, you should make sure that you have your manufacturer's manual close by as a refresher, even if you think you know your way around the boat. Use the manual to guide you through the process of replacing fluids and parts properly and it makes sound sense to consult the manual first before you start to take anything apart.
Working on the engine
You may prefer to use a boat servicing company to do all the hard work for you. But if you are attempting some of the basic maintenance tasks yourself, set to work on the engine first of all.
The engine is obviously a primary component of your boat and should be a part of your boating safety checklist. This will also probably be the area of maintenance where you will spend the most time on. If you didn't change the oil at the end of the last season, now is the right time to do so.
An oil change is very important to the performance and long-term health of your boat engine and a regular change will help to prevent corrosion and reduce the possibility of excessive wear, which can eventually lead to poor fuel economy and even loss of power or even engine failure.
Change the oil filter at the same time as you change the oil and also remember to change the oil in your transmission or the lower unit of the outboard motor at the same time.
Inspection schedule
Your next important task in your boating safety checklist would be to flush the cooling system and arrange to replace the antifreeze, working on a 50/50 water to coolant ratio.
After this, check the fuel lines to see if you can see any possible leaks or loose clamps or corroded lines. You should also check to ensure that the fuel supply is working ok and is not stale. If you have any doubts at all about the state of your fuel supply, you should consider replacing the fuel on board with a totally fresh supply and safely dispose of the previous fuel.
Another important thing to check is the condition and performance of your battery. You may want to consider replacing the batteries and performing a thorough engine test so that you can be confident they will not let you down when needed.
Other maintenance tasks
Take a walk around the boat and inspect the canvas and vinyl to make sure that it is free from any tears and holes, and also clean away any mildew and dirt that might have accumulated.
Inspect the condition of the hull and pay particular attention to see if you can spot any blisters, chips, or cracks that might need looking at. If you notice that the hull has a chalky appearance, this could be a sign of oxidation.
If you notice this problem on your hull, work on a gel coat maintenance plan to restore the boat to its original lustre. Clean the boat's exterior using a marine-safe cleaner and after you have done this, apply a fresh coat of wax according to the instructions for the product you are using.
Other maintenance tasks should include an inspection of the windshield wipers and a thorough test of all the electronic equipment as well as making the fire extinguishers, bilge pump, and safety gear are all in order.
With this boating safety checklist, the time and money you spend getting your boat in top shape will soon be considered well spent when you head out from the shore on your next boating adventure.
Zane Boothman is an avid boater of many years. When he's not on his boat, he's writing about boating online. You can read his posts on various outdoor, sports, and boating blogs.