Glamping Australia- Luxury Camping For Seniors Travel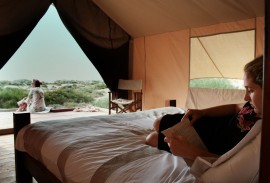 'Glamping' is the new travel buzz word – it stands for – glamorous camping – the comfortable high-end way of experiencing the great outdoors. Luxury tour operator like A&K has a number of glamping Australia tours to some of the most beautiful hard to get to places including parts of Tasmania, Western Australia, and South Australia.
A&K's Managing Director, Sujata Raman says, "It's what takes travellers out of their comfort zone and off the beaten track to experience beautiful landscapes and wilderness areas in an active and adventurous way. It is also about bedding down in these often-remote areas in comfort and with all the expected elements of a luxury journey with A&K. The A&K team responded accordingly by seeking out the best locations and involving our select partners to deliver this new offering – it's camping at its classiest!"
Typical glamping in Australia experience might feature accommodation in a spectacularly located luxury canvas tent furnished with all the essential home comforts – full-sized mattresses, fine cotton sheets, plump pillows, and duvets. The camp will most likely be in the midst of pristine wilderness where only the most eco-sensitive accommodation is appropriate. With just a canvas or screen to separate guests from the bush, it's likely that they will fall asleep gazing at the stars, wake to sunrise over a billabong or take an afternoon nap with the sound of the water lapping on the sand.
Most glamping Australia trips involve a level of outdoor activity such as hiking and kayaking but comfort at the end of a day is paramount. Every detail is carefully considered and included for the 'glamping' guest. Luggage is transported, expert guides carry drinking water and snacks, and quality gear is used including first aid equipment and satellite phones in remote areas. Nothing is left to chance.
Finally, great food, wine, and hospitality are the focus of the glamping experience. Guides and hosts amaze guests with culinary creations unexpected in remote locations.  Add candlelight, good company and it becomes an experience to remember.
I would consider myself to be a glamper.  I glamped trekking through Nepal a few years ago and would highly recommend the experience if you want a taste of adventure without carrying your own backpack, cooking meals or pitching your own tent.