Package tours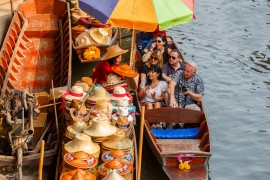 Taking an organised tour need not make you feel like a piece of herded cattle and the advantages are great.  Unfortunately, package tours have suffered from a poor consumer image for some time, but smart travellers have been seeing the benefits for years.  The advantages are plentiful, for a start, the cost savings.  Consumers enjoy the benefits of buying power that tour companies have.  They purchase their rooms in allottments every year that offer cost savings in the form of a bulk discount.  The same goes for day tours, museum entry and transport.  They are a great option for senior travel.
There are also time savings to be had.  The hard work in terms of researching your destination is already done for you (although some would say this is part of the fun).   Package tours offer a convenient option to those who are willing to leave it to the experts.  Having someone else do it all for you also ensures that you will tick off the 'must see's and do's' with minimal hassle and you won't waste time in being unfamiliar with a destination.  Check out the following great companies that are expert in catering to the +50 seniors market.  Your travel agent will be able to book these tours on your behalf.
Adventure Tours
GAP Adventures
has over 1000 adventure package tours ranging from basic through to superior standards.  Great tours if you are seeking adventure but with all the comforts. Check out G Adventures promotions and specials page. You should also take a look at their 50 tours under $995
Intrepid Tours pride themselves as a tour operator who likes to get travellers off the beaten track.  I have booked many travellers with Intrepid and found them a great company to deal with.  Their website has lots of information and articles of interest.  They have tours and package tours to destinations all over the world.
A1 Classic Holidays design 'armchair tours' designed to allow travellers to experience exotic and unique destinations in comfort and style with 5-star accommodation and cuisine.  Destinations include India, Nepal and other parts of Asia.
Chimu Adventures deal with expedition ships going to Antarctica and South American tours. They consistently offer special deals and discounts direct to the public.
Eldertreks is an adventure travel company designed exclusively for +50 seniors. Established in 1987, ElderTreks offers active, off-the-beaten-path, and small-group adventures by both land and sea in over 80 countries.  Journeys focus on adventure, culture and nature. Exotic destinations such as Namibia and Botswana, India, Syria, Jordan and Cuba are examples.
Malaysia Holidays are Malaysia travel experts to exotic destinations such as Borneo, Sarawak, Brunei and Sabah.  You can travel to these destinations in comfort and style. 
Tri-State Safaris is a multi-award winning tour company specialising in 4WD Outback adventures out of Broken Hill.  Tri-State are regulars on popular travel TV shows.
APT Kimberley Wilderness Adventures has been operating 4-wheel drive safari tours throughout the Kimberley for more than 15 years, and are recognised as the touring specialists in the region. The company's reputation for traveller satisfaction and quality operation has been recognised with several tourism awards. It is their commitment to ensuring that Kimberley Wilderness Adventures continues to exceed all your holiday expectations.
General Touring
Travelmarvel offers affordable touring and cruising of exceptional quality in Europe. Receive great value for money in package tours, as well as all the reassurances of travelling with a well respected and reliable tour operator.
A.N.Z Nature Tours offers a variety of tours to Australia and New Zealand with a natural focus.  They cater to independent travel, tailor-made options and small group travel.
Beyond Travel is a speciality travel company for Eastern Europe, Croatia and Russia including river cruising.  They regularly feature special deals even with package tours so it is worth checking out.
Evergreen Tours specialises in the premium touring around the globe with a focus on destination icons, but at the same time, freedom to explore independently.  They regularly feature great specials.
Handpicked Holidays is Australia's number 1 wholesaler for Back-Roads Touring Co, which specialises in small groups.
Northern Highland Travel is a family-owned award-winning business boasting repeat travellers up to their 40th tour!  They have a variety of packages from day trips and domestic tours to many interesting international departures.  They create a great atmosphere and keep travellers coming back to take their tours. 
Tempo Holidays is one of Australia's most respected wholesalers.  They specialise in fully inclusive and package tours to around 42 destinations.
Well Connected Travel create their own tours to exciting destinations and specialise in tours to The Baltic, Nordic and Eastern European countries
Luxury Tours
Tauck Tours are definately not the cheapest on the market but they do offer package tours where you can be certain to receive 5 stars all the way. 
APT (Australian Pacific Touring) is the expert in European River Cruising, and has custom-designed and built their own fleet of river ships, signify the evolution of modern river cruising. From the intricate elegance of the interior appointments and the opulence of the suites to the wealth of recreational choice provided in the vessel's public areas, these river ships are truly the finest on Europe's waters.
Education
Odyssey Travel is a not-for-profit organisation that specialises in educational tours around Australia and the world. They always have a range of great specials including limited no single supplement departures.   They offer free travel seminars and various locations around Australia.  You must book early to get into one of these.