Holiday Ideas For The Senior Traveller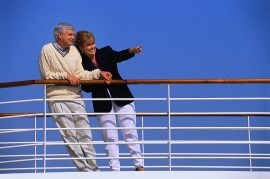 Travel preferences change at different points in our lives and as you get older, your priorities are not likely to include hectic urban landscapes, crowded beach resorts or noisome night-life – at least not all the time. However, it's easy to be selective with the range of senior travel options available these days. Many travel agents now offer tailored seniors travel ideas and deals that allow you to choose from exotic cruises, all-inclusive trips that land you on the quiet side of the shore and city breaks with plenty of cultural interest to explore.
These are just a few locations that might have been designed with the silver traveller in mind.
New Orleans
Louisiana's most famous settlement is just that for a reason: fascinating neighbourhoods, a story that's ripe with music and culture and some of the heartiest and most flavoursome dining you'll find in the U.S. The pace here is the pleasant, meandering kind, eternally summed up by the city motto "let the good times roll". Jazz tunes can be heard floating down the old streets as you walk around the tourist areas like the French Quarter and admire the beautiful Garden districts. Unmissable sights include the National World War II Museum, as well as the view from a Mississippi steamboat. If you're here for a quiet break however, perhaps give the February festival of Mardi Gras a miss.
Portugal
One of Western Europe's most dignified beach destinations, Portugal has a fine mix of dreamy coastal ports, hillside villages and fertile wine regions. Older travellers are often to be found revelling in the peace of the southern Algarve, or strolling at leisure around Lisbon and Portalegre. Spain's Andalusian coast may be next door, but there's a distinct lack of alcohol-fuelled beach parties here and more emphasis on past-times like golf and hiking. Cities such as Porto are World Heritage-listed, and a trip on a uphill tram before wandering back down the network of cobbled lanes is enough to show you why.
Caribbean cruises
Many people wait a lifetime for this kind of luxury holiday: the kind that takes you to tropical climes and far-flung shores, providing luxury facilities from swimming pools to world-class restaurants as you go. Head to island paradises like St Thomas and the Grand Caymans by sea and you have an instantly relaxed pace, facilities designed with older passengers in mind and decent discounts on senior packages. The advantage of seeing the islands this way is that you can choose cruises that stop at private islands, dramatically reducing the numbers on the beach and giving you that exclusive holiday feeling.
Of course, there are countless older travellers who still have adventure in mind and from an African safari to a trek in the Australian outback, nothing is off limits. With these more high-octane pursuits it's important to set yourself up with sound travel insurance and check with the doctor about immunisation before you go. Always look for senior deals at your travel agents or online as you may be surprised at what you can afford and investing those long-held savings in a life-changing trip may lead to the most rewarding holiday you've had to date.