Top 7 Asian Holiday Destinations Popular amongst Australians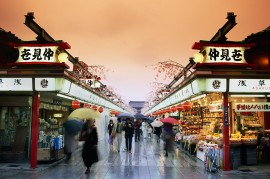 It is easy to see why so many Australian's choose Asia as their favourite holiday destination, with diverse cultures, ornate temples and endless sunsets on the beach. If you're planning your next overseas adventure, check out these great Asian holiday destinations, popular with Aussie travellers.
Malaysia
Malaysia is one of the Asian holiday destinations that attract thousands of travellers every year, from families and solo travellers to party groups and newlyweds. The island of Langkawi is one of the most popular locations in Malaysia and acts as a gateway to the smaller islands surrounding the country. Langkawi is home to some of the most luxurious resorts in the world, located on the shores of white sandy beaches. If there's one attraction you must visit when travelling through Malaysia it is the Batu Caves. Recognisable by the enormous Hindu statue that stands at the entrance, the limestone caves are home to ornate Hindu shrines and historical artefacts of Malaysia.
Bali
Always a favourite amongst Aussie travellers, Bali is one of our closest Asian neighbours. Flights to Bali are very affordable, when travelling from Australia, often making it an even more appealing Asian holiday destination. If you're looking for a party, head to Kuta for amazing bars and a vibrant club scene. North of Kuta, in Central Bali, is Ubud – the heart of arts and music in Bali. Surrounded by the lush Balinese rainforest, many honeymooners have chosen to spend their first days as newlyweds in one of the many private villas.
Vietnam
Vietnam holds great historical significance for many Aussie travellers, home to memorials and dedications to those who fought in the Vietnam War. While the memorials can often be quite confronting, they are well worth a visit when travelling through this beautiful country.
Hong Kong
Located south of China, Hong Kong is the city of hustle and bustle. Speeding scooters and cars will fly right by you when roaming the streets, but exploring the city is one of the greatest adventures in Hong Kong. Every night of the year, the night sky comes alive with a spectacular light show of illuminations and lasers.
Thailand
Always growing in popularity for top Asian holiday destinations, Australian holiday goers most commonly make their way to the largest island of Phuket. Home to great shopping districts, an unbeatable nightlife and some of the best beaches in the world, Phuket is the place to be. Airfares to Phuket are incredibly affordable for Australian travellers, where you can begin your journey before heading to Koh Phangan for the infamous Full Moon Party.
Singapore
If you're looking for an Asian getaway with high-end shopping and magnificent restaurants, there's no beating Singapore. One of the more wealthy countries of Asia, shopping enthusiast will be overwhelmed by the vast array of shopping districts, which vary from enormous malls to floating markets.
Japan
The epicentre for all things unique and wonderful, many Aussie travellers are left in awe by the interesting fashions and latest gadgets in Japan. A simple walkthrough Harajuku will have you seeing Japanese girls dressed as your favourite fairy tale characters or hard-core rockers. Get lost in the bright lights of Tokyo, with flashing billboards and illuminated signs, lighting the way for the city that never sleeps.