Thinking About Retiring to Thailand?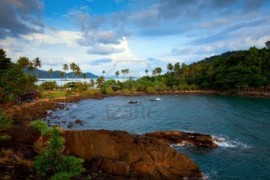 For many retirees, living among the friendly people and warm breezes of Thailand is exceptionally appealing. In fact, you might be hard-pressed to find anyone relaxing at any of the Krabi beachfront hotels or on the sandy shores of Phuket who isn't dreaming of chucking it all and living out the golden years in Thailand. Between a low cost of living, plenty of housing and medical care, and a laid-back, low-stress lifestyle, retiring to Thailand is gaining popularity — and more and more foreigners are arriving every year.
But before you put your home up for sale and start packing your bags, there are some things you should know about life as a retiree in Thailand.
Visas Are Mandatory
One thing to consider and prepare when retiring to Thailand is the Visa. Like almost every country, Thailand has strict requirements on who can enter the country and stay beyond the length of a standard vacation. The good news is that Thailand offers a retirement visa specifically for people over age 50 planning to spend a year or more in the country. To get the retirement visa, you must first obtain a non-immigrant visa by showing your Australian passport and proof that you have at least 800,000 Baht, or about AUD $26,700 in the bank. Once you have that visa, you can apply for a retirement visa that is valid for one year. For this document, your money must be kept in a Thai bank, and you'll need to also show at least 1,200 baht, or $40 Australian, in monthly income.
Although the retirement visa is only good for a year, it can be renewed annually as long as you continue to meet the legal requirements, which include reporting your address to the Immigration police every 90 days and maintaining an adequate income.
Housing Concerns
In general, housing in Thailand is quite affordable. However, when retiring to Thailand and you were planning to purchase a home or other property, you may be out of luck, as Thai law prohibits foreigners from having 100 percent ownership of property. The good news is that most rentals are quite affordable. Rents range from about AUD $200 for a small apartment in the city to upwards of AUD $800 for a large furnished home on the beach with maid service. If you'd rather bring your own household goods, you can import them without taxes or duties for up to six months after your retirement visa is granted; after six months you'll pay a combined 27 percent in taxes and duties.
Medical Care
Medical care in Thailand is widely considered to be excellent. Most of the doctors in city hospitals were trained in the United States and have access to the latest technology. The costs are also affordable, especially considering that many common medications are available over the counter. On average, a hospital stay in a private room runs about AUD $50 per day.
Taxes and Cost of Living
Thailand only charges tax on income earned in Thailand, meaning that if your income comes from other sources outside of the country, you don't owe income taxes to Thailand. However, you may be required to pay local taxes; in some cases, those taxes are rolled into rent or service charges and you never see a separate bill.
Aussie retirees can usually maintain a comfortable standard of living on about AUD $1200 per month, which much less than is necessary for Australia. However, if you're relying on your pension for income, carefully review the pension requirements to avoid a reduction in payments or losing your pension altogether.
Cultural Considerations
In general, Thais are very welcoming to foreigners, especially older people. However, there will be a learning curve as you get used to life in Thailand. For example, in most parts of the country, it's not safe to drink the tap water, and you'll need to stick to boiled or bottled water. The biggest change for many expats is the slower pace of life. It may be a challenge to slow down and enjoy the more leisurely lifestyle, but this is what retirement and retiring to Thailand is all about: learning to enjoy the simple pleasures of a morning walk on the beach or a fresh piece of tropical fruit.
While many people dream of moving to Thailand, the fact is that few actually pursue the dream. For those who do make the leap, the experience is often better, and more fulfilling than they ever imagined.
About the Author: Penny Linley is a travel writer and photographer. Although she calls Sydney home, she spends at least four months a year in Thailand and hopes to make a permanent move sometime in the next few years.