Best Bali Resorts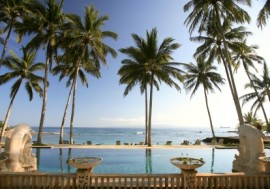 As you may have read in the Sunday papers, Bali is going at bargain-basement prices – even for Bali. As many thousands of Australians know already, Bali is great for a resort-style holiday with maximum relaxation. It has accommodation to suit all tastes and budgets, and the resorts tend to have magnificent swimming pools (which is just as well because the beaches are not the idyllic white-sand kind and not the best for taking a dip).
The food is another attraction. A wide range of cuisines is available and a number of internationally recognised chefs have made Bali their home. You can indulge your 'foodie' inclinations at surprisingly low prices.
The hot accommodation option right now is the villa. Fancy self-contained lodgings, exquisitely appointed in lush gardens, with your own private pool? Get a few family and friends to chip in and you can get especially good value.  The villas also come with a maid to take care of the daily cleaning, and you can have your own chef, car, and driver as well.  It's a terrific value, even if you take a villa on your own. Such an arrangement would be prohibitively expensive for most of us if it was in Australia, so why not indulge?
Various Balinese beaches and regional areas have reputations for offering certain types of experiences or holidays.
In particular:
·         Seminyak, with some of the more luxurious resorts and villas, surrounded by many of the island's best restaurants.
·         The Kuta-Legian nightclub and bar area, which is generally where the younger crowd stays.
·         Sanur and Nusa Dua, with the quieter, more low-key beaches.
Sanur was Bali's first beach resort. I have wonderful photos of my Nan and Grandad on Sanur beach back in the 1960s when it had only one hotel. They look rather hip in what was then an obscure exotic destination.
As with many too-good-to-be-true deals, there are trade-offs to consider. These deals are abounding because Bali's tourism industry is hurting in the face of safety warnings for travellers.  Visit Smart Traveller for the current government warnings before you start paying deposits. You need to feel comfortable with the situation if you're going to have a truly relaxing stay.
Make sure you check out the latest Bali specials  on Zuji.com.au