Five Fun London Sightseeing Activities For Seniors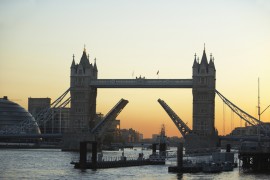 London often brings to mind the classic double-decker red bus or the signature black taxi cabs, but there are actually a variety of other fun ways to get around the city in order to see all the major (or the not so well-known) sights. From cruising at a leisurely pace on a bicycle or aboard a narrowboat to exploring the city on a walking tour, via the underground train system or even in a funky Mini, there is a mode of transport to suit all tastes and budgets. If you're travelling to London this year and want to know the transport options available to you, read on for five fun ways to find your way around the city and its variety of sites.
Go for a Bike Ride
A particularly effective transport option in the warmer months of the year, hiring a bike can give you freedom and flexibility when travelling around London, at an affordable fee. The city's public bicycle hire scheme is available 24 hours per day, 365 days a year, and provides over 8,000 bikes at 550-plus docking stations around the city. The bike-sharing scheme is available for short journeys or the whole day, week, or year, and when they're finished, cyclists simply return bikes to any docking station in London.
Dubbed "Boris Bikes" after the name of the city's Mayor who introduced the program, the scheme is free for the first half-hour and has been part of 22 million journeys since it launched in 2010. Pricing is reasonable, and the program's website also provides maps of London, suggested cycle routes, and info on bike availability to aid travellers in their exploration of the city. Bicycle docking stations are located across nine different London boroughs and in several of the Royal Parks in the city.
Whizz Around in a Mini
If you like to book luxury accommodation in London and want to travel around the city in a fittingly-luxurious way, consider booking a tour with Small Car Big City. The company provides a variety of retro tours around the English capital in beautifully-restored, vintage Mini Coopers.
Local tour guides take travellers down many little back streets in the city and introduce them to countless hidden London gems that might otherwise be overlooked. A variety of tour options are available, with some choices including "The Royal London", a 30-minute jaunt through the city, "The Italian Job", which zips around London for 90 minutes, and "The Great Escape", a more extensive three-hour-long tour covering all the major sites plus little-known gems as well.
Navigate on a Narrowboat
There's something peaceful and relaxing about spending time by the water, and hiring a narrowboat in London for the day or afternoon is no exception. Travellers wanting to see a different side of the city can experience the tranquillity of canal cruising by hiring a self-drive boat for a few hours or a whole day.
The Canal & River Trust website provides a list of boat operators tourists can contact to organise a hire time, and travellers can motor through areas such as Paddington, Little Venice, Regent's Park, and Camden along their journey.
Meander on a walking tour
If you like to stretch your legs and explore a city by foot, London is a great place to either meander around on your own itinerary, or book a walking tour with an established company.
Well-regarded tour operator London Walks is the oldest urban walking tour company in the world and was actually founded by an Australian close to 50 years ago. The company runs dozens of different tours, with walks being organised around themes as diverse as Shakespeare, gourmet food, Jack the Ripper, Harry Potter, ghosts, pubs, and art.