Senior's Travel Guide for Canada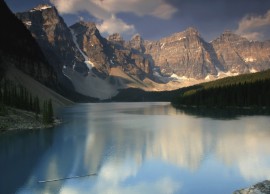 Canada has a lot to offer any visitor, particularly those interested in seniors travel. Its expanse of natural beauty rivals that of any other nation, while its cosmopolitan cities offer a vibrant, modern, multicultural atmosphere we can all enjoy. Best of all, it's lauded time and time again as the world's most livable country, and that includes seniors. Here are our top tips on great discounts you can use to make the most of your next trip to Canada with great travel deals for seniors.
Fly in for cheap Air Canada gives a 10% discount to seniors on many of its fares. Jet Airways gives senior discounts to all those over 65 on all of its flights, including to and from its Toronto hub. ID required.
Take in Canada's best scenery The Parks Canada Agency, which operates all of the national parks, national historic sites, and canals in the country offer a great 25% discount for seniors on its entry fees. See individual sites for details.
See Canada by train and save Canada's Via Rail offers year-round 10% discounts for those 60 and over – just select their 60+ fare when booking on any journey. There's also a 10% discount for seniors on two great travel passes – the 12-day Canrail pass, in which you can go coast to coast on one ticket; and the Corridor Pass, which gives you 10 days' unlimited travel in southern Ontario and southern Quebec.
Save on car rental Thrifty Canada gives 5% off time and mileage to those over 55, with some date and other restrictions. Reservations must be made at least 24 hours in advance.
Hit the road the easy way Greyhound Canada carries millions of passengers across the country's provinces and territories each year. There is a standing 5% discount for all those 62 and over – ID may be required. Additionally, many local bus and metro services offer senior discounts, but local residency or special IDs are required in some areas.
Save on your hotel room A number of hotel chains in Canada offer discounts to seniors – here are some of the best ones: Sandman Hotels offers a 25% discount through its 55Plus program at its 26 locations in western Canada all year round; Best Western give a minimum 10% discount to all those over 55 at its hotels around Canada (reservation required); the Radisson hotel chain offers senior discounts at many of its locations, including some holiday packages – check with the individual hotel; the Travelodge hotel chain offers a senior discount at its hotels around Canada, although some blackout dates apply.
Like Australia, every province and city has a visitor information centre.  You can email and ask local information centres to send discount books, area road maps, a list of festivals, and special events. Tell them you are planning a cheap holiday and ask what there is to do for free.  Most of them can also send you coupon books with discounts to a wide range of attractions and local restaurants.  You can access these through the Tourism Canada site.  I found the official site quite difficult to navigate, but it does give you access to the individual town/provincial official tourism sites. 
Ask and you may receive! Many other locations such as restaurants, pharmacies, movie theatres, fitness centres, and beauty salons offer discounts to seniors, so it always pays to ask and to shop around.  Canada is a country that is very generous to its seniors.