Mumbai Transportation: Tips For Getting Around Mumbai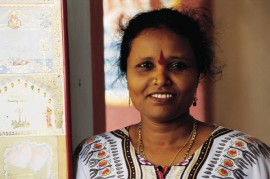 Mumbai is one of India's most cosmopolitan and fascinating cities. Home to everything from art galleries and museums, luxury hotels, fine restaurants and the bright lights of Bollywood, Mumbai is one of the top seniors' travel destinations in all of India. With such a bustling city, though, come some drawbacks — including traffic. Even on the best days, the streets of Mumbai are crowded and chaotic, and for a first-time visitor, getting from point A to point B can feel a little bit overwhelming. However, with a little bit of knowledge of Mumbai transportation, getting around the city is actually quite easy. Understanding the various forms of transportation and how they work will help you get where you want to go, and experience some of the best that this exciting city has to offer.
Taxis
The most efficient means of getting around Mumbai is via taxi. There are several types of taxis, though — and choosing the wrong type of ride could cost you more money than you were planning to spend.
There are generally three types of taxis in Mumbai: metred taxis, also known as yellow tops; call cabs and private taxis. The metred taxis are the most common type of taxi and tend to be older-model vehicles. They have a metre mounted to the front of the vehicle, and you can flag down a vacant car at any time. The fares for these cabs vary according to a rate card established by the government, with a base rate for the first mile and then an additional charge for each additional kilometre, plus surcharges for trips between midnight and 5 a.m. and extra luggage. It's important to note, though, that you need to pay close attention to the metre in these cabs. There are some unscrupulous drivers who will attempt to take advantage of visitors and charge inflated rates. Check the metre before you start your trip, and ask to see the rate card before setting out. If the rate card is missing information — such as surcharge details — use a different cab to avoid paying too much.
Call cabs, on the other hand, tend to charge more expensive fares but are more modern vehicles — they generally have air conditioning, GPS and modern, tamper-proof digital metres. You will most likely have to call several hours in advance to reserve one of these cars, though your hotel will most likely do it for you.
Finally, you can reserve a private taxi to shuttle you around the city. Again, your hotel can help you arrange for this service, which will give you a car and driver for a pre-determined amount of time for a set price. On average, you can expect to spend upwards of Rs800 for an eight-hour period, but you'll most likely have a luxury car, and you won't have to worry about securing transportation throughout the day or negotiating fares. If you plan to do a lot of sightseeing, a private taxi might be worth the expense.
Public Transportation
There is public transportation in Mumbai in the form of trains and buses. Riding the train or the bus in Mumbai allows for a taste of everyday life, but expect large crowds and confusing routes. Public transportation is efficient and cheap, but avoid carrying valuables or luggage when using the service, as you could be vulnerable to theft in the crowded compartments. Talk with your hotel concierge before heading out for instructions and advice on how to navigate the system.
Rickshaws
In the outer part of Mumbai, outside of the crowded city centre, you can travel by motorbike-powered rickshaw. While certainly interesting and relatively cheap, this mode of transportation is not for everyone. The rides tend to be bumpy, and as drivers weave in and out of the traffic you could feel a little anxious. However, this traditional form of transportation is fine for a short jaunt.
You can rent a car and drive yourself around Mumbai, but the traffic and winding streets could prove to be confusing and overwhelming to a driver who is unfamiliar with the area. Instead of worrying about transport on your holiday, learn about the other ways to get around Mumbai, and spend time enjoying the sights and culture.
About the Author: Writer Amaya Martindale studied in Mumbai for two years and considers herself an expert taxi driver negotiator. She writes about travel for several blogs and buys all her cheap flights to Mumbai on Expedia.