Activity in Bali: 3 Ways To Wind Down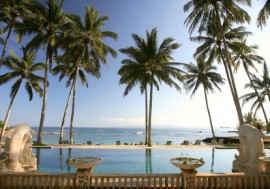 Have you ever had the feeling that you really need some time to escape everyday life, to wind down and focus on yourself, whether mentally, emotionally or physically? If so, it might be time to book a flight to Bali. Contrary to many preconceptions, there is definitely a lot more activity in Bali than the rowdy bars, streams of drunken tourists, and free-flowing Bintang beer that is so often associated with the country.
This tropical paradise, known as the Island of the Gods, is in fact one of the top health and wellbeing destinations in Asia and is peppered throughout with quality retreats, healthy restaurants and cooking classes, and cleansing activities and events. If you'd love nothing more than some time for rest and relaxation in an idyllic setting, read on for three ways you can take some time out in Bali and replenish the body and soul.
Learn How to Cook Healthy Meals
A great way to relax yet learn at the same time is to enrol in a healthy cooking class or day tour while you're in Bali.
Two well-regarded Balinese operators are Bali Herbal Walks and Green Kitchen Bali.
Located in Ubud, Bali Herbal Walks provides three-hour tours of the local landscape that feature discussions and demonstrations of medicinal and cooking herbs and plants and ends with a meal at a local organic restaurant.
Participants will come away with not only a great meal and taste of Balinese culture, but also knowledge about how to identify medicinal plants and herbs by their smell, sight and taste. They will also learn which ones to use to treat common ailments and illnesses.
Green Kitchen Bali is a company that operates cooking classes with a truly local feel. The tours start with a group visit to one of the biggest fresh produce markets in the country and then proceed to the operator's home where it's time to whip up a traditional Balinese feast made from additional ingredients sourced from on-site gardens.
Visit the Bali Spirit Festival
If you can, book your next stay in Bali to coincide with the annual Bali Spirit Festival. In 2015, this annual, internationally-acclaimed festival will be running for its eighth year and will be held at the end of March to early April. The Bali Spirit Festival is always held in the peaceful setting of Ubud, and the yearly event brings together a mix of yogis, musicians and dancers from around the world who take part in the festivities as a way of celebrating the merging of Eastern and Western Cultures.
This integration is exhibited through the various arts showcased during the event, with the Festival also having a vision of contributing "positively to the ecological health, cultural vibrancy, and overall vitality of Bali and greater Indonesia."
Attracting at least 6,000 visitors from more than 50 countries to the region every year, the Bali Spirit Festival not only gives participants a chance to nourish their mind and body but also helps to build and support the local community. The founders of the festival have pledged to provide support to a variety of local charities with funds from the annual event.
Stretch out at The Yoga Barn
If you feel like you need a good stretch and some time to meditate and clear the everyday noise from your head, then a wonderful spot to visit is The Yoga Barn. This Ubud-based facility is set in a tranquil Balinese-style setting where travellers can take part in a large array of yoga classes, many of which are free to attend. The Yoga Barn has a very friendly and relaxed vibe and is the perfect spot to unwind, decompress and work the kinks out of tightly-wound bodies.
Launched in 2007, the establishment was created by its founders as a place to bring the community together while giving back to the country at the same time. With a priority of helping to preserve as much of Bali's natural wonders as possible, The Yoga Barn founders are in the process of expanding the venue and have purchased an additional 3.5 acres of land in a bid to help the area not become overpopulated or too commercialised. Indeed, 80 per cent of this extra land will be preserved and turned into a "green zone" that cannot be built out.
The new facilities will be made sustainably from recycled wood and will double the current size of the venue. Travellers can enjoy a variety of class types at the Barn, including meditation, sound medicine, and yoga styles such as Hatha, Vinyasa Flow, Power, Pranayama, Iyengar, and Yin.