Prague Attractions: A City Wealthy in History and Culture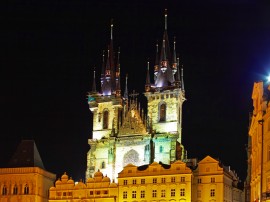 City breaks to Prague are becoming an increasingly popular option among senior travellers seeking somewhere new to explore. This Eastern Europe's crown jewel is rife with history and culture. Discover the gems hidden among the many winding streets and alleys. Here are a few things to consider before your trip and some must-see Prague attractions.
When to go
Prague is a beautiful city to visit all year round, with many people enjoying the sun in springtime and during the peak months between June and August. The weather in autumn is still pleasant for sightseeing and if you visit in winter, the snow-capped Gothic spires are a captivating sight. You'll also get to enjoy the enchanting Christmas markets.
Getting around 
The main tourist attractions are all within walking distance of each other, and Prague has an excellent public transport network of metros, trams, and buses. Visitors aged 60 to 65 years are entitled to discounts on metros, trams, and buses. Simply present your passport at the ticket window to get the discount.
Awe-inspiring architecture
Prague is famously known as the City of a Hundred Spires, with an estimated 500 spires in the city. Towers also populate Prague, including the Old Town Hall Tower, Powder Tower, Town Bridge Tower, and Petrin Tower.
The city center consists of five historical towns, including the Old Town, New Town, Jewish Town, Castle Area, and Lesser Quarter. Each area has its own unique charm. From Mala Strana, you can enter the Old Town by crossing the gothic statue-studded Charles Bridge. In the Old Town Square, you can visit the famous Prague Astronomical Clock, and wander through cobbled, curvy streets.
To get a magnificent view of the city's baroque roofs, climb or catch a cable-car to the top of the Petrin Hill TV tower. Enjoy a tranquil afternoon cruising along the Vltava River to see the domes, spires, and pinnacles. You can visit Prague's many museums and galleries to admire the rich cultural heritage of the city. The National Museum, Lobkowitz Palace, National Gallery, and Sternberg Palace contain extensive art collections of all styles and eras.
Prague Castle
Located on one side of Charles Bridge is Prague Castle: the most significant cultural and historical monument in Czech and one of the largest and well-preserved castles in the world. The ceremonial Changing of the Guard takes place daily at 12 noon in the first courtyard and the castle offers 50% discounts for those aged 65 years and above.
Fun festivals
Prague has an impressive list of festivals and events that draw large and curious audiences of all ages. Pražské Jaro (Prague Spring) is the highlight of classical music and is held annually in May and June, attracting first-class performers from around the globe.
The International Film Festival Prague (FEBIOFEST) is one of the largest film festivals in the Czech Republic. Public space- such as a train station or church- is transformed into an auditorium. International films are shown and many have English dialogue and subtitles. In the evening, FEBIOFEST is transformed into a music festival showcasing world music, jazz, and blues in the multiplex cinema garages.
With its magnificent architecture, rich history, and warm summers, Prague is a fairy tale city that you'll fall in love with.