Italy Travel Tips for Seniors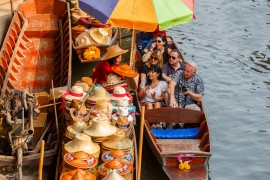 It's no surprise that Italy is one of the world's top tourist destinations, with amazing sights like ancient cities, classic works of art, charming villages, majestic natural scenery, and much more spread all over the country. It's also a great place for seniors in particular, with a large range of great historical tours, wine tastings, education and language packages, and cruises tailored to overseas visitors on offer. Check out our top Italy travel tips to help you get the best out of your next trip to Italy.
Seniors enjoy a respected status in Italy. Culturally, they are considered not old, but wise and experienced having contributed long and well to society.  This great respect for seniors translates to all sorts of benefits like discounts at restaurants and all sorts of local places, so be sure to ask wherever you are.  However, in terms of overall discounts to well-known attractions, we have heard in some instances that seniors travel discounts do not get offered to non-EU citizens, but be sure to ask.
Avoid the queues.  As anyone who's been to Rome or Florence in the summertime can tell you, seeing Europe's top artistic sights is no mean feat during high season. Visitors from all over the world queue around the block, and sometimes the block after that, to see the many masterpieces on display.  We are talking for HOURS.   If you want to see these great works without standing in the sun all day, come to Italy between mid-March and May, or in September and October, when the crowds are considerably smaller. Another great way to avoid a long wait at the Vatican Museum, in particular, is to come on the last Sunday of every month when admission is free and the line moves considerably faster!   Alternatively pre-book your entry tickets.  This is a great way to avoid the terrible hassle and something I personally do before all my trips.  Viatour :  has been around for years.  As a travel agent, I am confident to recommend their products.  They actually have a series of tours called "Skip the Line" tours for some of the top attractions.
Prepare for the heat.  Italy is one of the hottest parts of Europe in high summer – in the capital, for example, the temperatures frequently exceed 30C during July and August. For the most comfortable trip possible come between April and June or in September and October, when temperatures will range from 18-25C. The ottobrate, or "beautiful October days", are especially well known as a great time to be in Rome. If you do come during the high season, bring plenty of water and sunscreen and wear a hat during the midday sun. It's easy to get dehydrated when there are so many fascinating sites to visit! I have also found that some of the shopping centres are not air-conditioned, you find this in France too.  So at times in high heat, an escape to the shops is not an option.
Take your time.  Even without the scorching sun and thronging crowds of summer, seeing all the sights of Italy can be a demanding task for anyone. In fact, most people find themselves walked out after only visiting a couple of the main historical sites in Rome such as the Roman Forum or the Coliseum. Many of the country's coastal and rural tourist sites, moreover, are difficult or inaccessible to anyone with mobility issues. The best way to get around this problem is to take it easy, prioritize which sites you're most interested in, and don't try to cram in too many activities in one day.   If you truly are interested in visiting the famous historical sites and museums, my advice is to allow plenty of time to do this and try not to do too much in a day.
Stand for your coffee.  It is a whole lot more expensive if you take a table at a cafe for your coffee break and panini.  You will see the locals standing at the coffee bar because it is cheaper.  However, I personally see taking a table at a local haunt as part of the tourist attraction – watch the locals and recover your feet.  But if you are on a budget, stand for your coffee.
Savour the flavor.  Of course, another of Italy's top attractions is its great food. The home of pasta, ice cream, and pizza has a deservedly good reputation for its delicious traditional fare – make it your business to try all three! The Trastavere food district in Rome is a good place to start.   You will find great deals everywhere for food, particularly if you are willing to explore the back streets a little and get off the tourist path.  A great cost-saving tip is to take a set menu, generally offered at lunchtime.  They include a range of courses and almost certainly come with a glass of wine.   So, eat your main meal during the day at lunchtime like the Italians.  You can walk it off in the afternoon.  For the true lovers of Italian food, there are plenty of cooking courses to do.  You can choose from half-day courses to 2-week immersion experiences.
Enjoy the wine country.  For wine lovers, the world over, Italy is a feast for the taste buds. Famous varietals like Chianti, Sangiovese, Montepulciano, and Pinot Grigio all come from here, plus dozens more you can come to know and love during your stay. Visitors are spoilt for choice when it comes to vineyard tours, which are dotted all around the country.   If you are not staying in one of the wine regions, again, you can take day trips from some of the major destinations like Florence to Chianti.  There are plenty of options from Rome, Milan, and Naples too.
Safety.  Italy is well known for pick-pockets.  Please be careful, particularly around the well-known tourist areas like Florence and Rome.  They operate in very organised groups, with children unfortunately often being used as 'bait'.  My cousin was recently a target in Florence – on R & R from his tour in Iraq (he is in the Australian Army).  So big tough army guy was no match either – Anthony is a big softie and a sucker for cute kids.  Beware.