Travel Tips for Japan for Seniors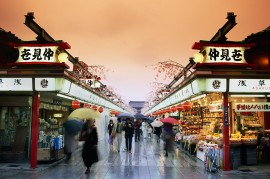 Japan is a fascinating place to visit for even the most seasoned traveller.  It has to be one of my favourite countries.   It's a country of great contrasts, with ancient temples and futuristic cities, misty green hills and bullet trains, be-suited businessmen, and beautiful geisha. It's also a challenging location for senior travel as despite the large senior population here, urban life moves at a lightning pace and there are few senior discounts on offer. Nonetheless, once you take the plunge, you're guaranteed to be greeted with amazing hospitality in a country full of rich, exotic heritage to explore. Japan is also very safe.  You will find the locals incredibly friendly and genuinely interested in helping you enjoy their country.  Check out our essential travel tips for Japan and get the most out of your holiday.
Packing.  There are a number of things you should make sure to pack in your luggage for a trip to Japan. Comfortable socks (without holes) are a must, as you'll probably be asked to remove your shoes when visiting someone's home as well as ryokan inns, temples, museums, and even some restaurants. You should also bring plenty of tissues, a washcloth, and hand sanitizer since many restaurants don't give out napkins and a lot of public bathrooms do not have towels, soap, or hand-dryers. A travel umbrella is also recommended since Japan's climate is such that it can rain at any time of year.
Soak in a hot spring.  Hot springs come in both natural and man-made varieties all over Japan, thanks to a local appetite for weekend getaways. If you venture into a rural area of the country you may find some very picturesque natural springs located among scenic mountains and pretty foliage, although access to these areas may be difficult for those with mobility problems.  In general, Japanese hot springs are especially pleasant for seniors because of their soothing effect on muscles and joints. At the springs, which are most commonly separated into men's and women's baths, you may come across locals soaking in the nude – but don't worry, wearing a bathing suit is perfectly acceptable for foreigners.
Take in the history. There are tons of fascinating museums and amazing temples around the capital alone. The Sensoji Temple is the oldest in Tokyo and attracts many visitors each year to see its imposing gate and colorful five-storey pagoda. The same area is dotted with souvenir stalls and foreigner-friendly places to eat. To learn more about the country's long history, the massive Tokyo National Museum is a surefire hit, with five halls of historical and cultural exhibits that will more than satisfy even the most avid history buff. Just don't expect to see everything!
Walk in the beautiful gardens. Deservedly famous for its flower gardens, Japan has no shortage of gorgeous plant life. The city of Kyoto (500km west of the capital), in particular, has a number of fantastic gardens, parks, and scenic countryside in store for the adventurous traveler, especially if you come in the autumn and see the gorgeous red leaves.  April is another fantastic time to visit Japanese gardens because beautiful cherry blossoms will be in bloom. Tokyo's Imperial Palace East Garden – which is open daily except for Mondays and Fridays, and is free to enter – as well as the Rikugien and Hamarikyu gardens, are all great places to experience this wonderful natural occurrence without leaving the capital.
Budget Travel Tips. It is a common misconception that Japan is a very expensive place. This can be true – some restaurants will not even display their prices until you get the bill and taxis and cinema tickets also tend to be quite expensive.  However, it can be a great budget holiday.  Coffee prices are about the same as in Australia and you'll find that some items such as alcohol and some electronic goods are cheaper here than at home. Cost-saving tips include:
–  Eat at the local Japanese restaurants.  You will find food prices comparable to home.  Make sure to bring along a good guide book like Lonely Planet with plenty of restaurant listings.  In the local Japanese restaurants, you will find window displays of mocked up menu items.  All you need to do is just point at the item and it will come exactly as displayed.  This is generally the case for noodles and traditional soup dishes.  It is very cheap.
–  Visit local supermarkets for food supplies.  These can often be found in the basements of department stores.  Be adventurous and try some of the free samples.  You should also check out the local bakeries for delicious Japanese bread.  This is the way it goes in the supermarkets – the higher the level, the more expensive the food.  So stick to basements in the supermarkets for both food and restaurant items.  Royal Host is a great family restaurant chain in Japan where you can rely on a cheap meal, including western-style breakfasts.  I have used these a lot in the past and can vouch for their breakfast.
–  Drink the local beer.  Far cheaper than imports, Japanese beer is also becoming very popular outside of Japan.
–  Visit the 100 Yen shops.  These places are amazing!  They are everywhere, make sure you hunt them down.  You will find amazing gifts, crockery, and lovely souveniers that don't cost a fortune.
–  Catch local transport such as trains and buses instead of a taxi.  The system is really easy to navigate and very cheap. You enter the buses through the back door and pay when you leave via the front door.
–  Invest in a Japan Rail Pass to get around.  Do so before you leave home, it is much cheaper.  It is also fine to buy the 'Ordinary Pass' instead of the first class.  You will find Ordinary Class far superior to our usual second class and on par with Australian 1st Class trains.  Good advice for if you plan to travel the country by train is to take hand luggage only and pack light.  There is no space on these trains to store your luggage.
–  Avoid western hotel chains.  These are far more expensive than the local Japanese chains.  Here are a few to try that we can personally recommend:
Hotel Villa Fontaine Washington Hotels   Tokyu Hotels  Prince Hotels Jal Hotels   Grand Pacific Hotel  Hotel Sunroute
–  I also recommend researching pricing within 3 months of your departure.  Any earlier than this means you will not get access to the special deals and rates.  Japanese hotels rarely release specials outside of 3 months to the date.
–  Check out the Gday Japan website.  Written especially for Australians, it has great tips if you want to travel or live in Japan.