Philippine Travel Advice for Seniors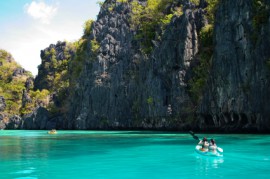 Did you know that in the Philippines, there exists a law granting a blanket 20% discount on everything upon turning 60? Known as the Senior Citizens Act, all establishments in the Philippines are required by law to offer a 20% discount to all senior citizens aged 60 and above.  While the law does not extend to tourists, make sure you do ask.  Many places will allow the discount to foreigners at their own discretion. Now that is what I call a truly 'seniors friendly' country. The following Philippines travel advice for seniors will be helpful in your preparations for future Philippine trips.
The Philippines is now emerging as one of the most sought after destinations in Southeast Asia, embracing visitors from various parts of the world every year. With its tropical climate, the Philippine isles have become a haven for nature lovers and backpackers, becoming a major tourist attraction particularly for its pristine white beaches, clear blue waters, fantastic dive spots, lush hills, and mountains. Many tourists are attracted to the Philippines for its laidback, easygoing lifestyle.
The people. Nothing beats the warmth and hospitality of the Filipinos. They welcome everyone who visits their home, treating guests like royalty, and making sure every need is attended to. Filipinos are predominantly Catholic, while parts of the population are Muslims, Buddhists, and Protestants. You can say that the Filipinos are a religious bunch, even teaching moral values in school like respect for elders and being kind to one's neighbor. For Filipinos, the family is given the utmost importance. It's not uncommon to find homes with extended families all sharing the space together. Whenever there is an important event or gathering, guests are always treated like they are part of the family. You'll get a feel of this when you visit a Filipino home, as they give up their best seats, beds and even prepare a feast to make you feel satisfied and comfortable.
Ease of getting around. Nearly all locals can communicate in English. Don't hesitate to ask for directions! Locals are warmhearted and are always ready to help, some even willing to show you around. Local public transport includes jeepneys, tricycles, buses, and trains (MRT, LRT). Air carriers fly to local destinations, metered taxi cabs are available widely in the metropolitan area, while boats can ferry you around the islands as well.
Travelling on a budget. Nearly every coffee shop offers WiFi and internet services, some offering this for free. There are plenty of cheap hotels and hostels which can provide you quality service and nice facilities are available. If you want to go shopping, Manila is known as a haven for bargain shoppers where you can virtually everything from clothes to shoes to bags, household items, and even hardware supplies at a low cost.
Eating. When dining out, you have a wide variety of options from Western choices like Italian, plenty of American food chains, Mediterranean and Asian cuisine like Japanese, Chinese, Korean. Hotels can serve a myriad of cuisines, and of course, you can have a taste of original Filipino cuisine which usually consists of fresh seafood, organic greens, and a rich flavor (a combination of sweet, sour, salty tastes) that Filipinos love. Best of all, every meal is inexpensive when compared to eating out in other countries, so you can get the best of both worlds by getting budget accommodation with world-class service.
Travelling tips. Filipinos love a festival.  There are a number of festivals called fiestas are held in various provinces across the country, so check the local tourism office for information on when these will be held.
Check your travel dates and make sure you don't go during the typhoon season (around June to September). With a tropical climate, you'll experience the hot summer from March to May and wet season with occasional rain showers from June to October. The remaining months from November to October are normally cool and windy.
A Pocketful of Paradise. The nation is divided into three main regions, each with its own metropolitan hub and particular points of interest. Luzon to the north is the most populated region, with the expansive capital city Manila as its main destination. Travel farther north to Banaue where a spectacle of rice terraces had been etched up along the hillside by the Ifugao tribespeople over 2000 years ago. Also, don't miss the truly isolating beauty of Hundred Islands National Park where you may just find a beach all to yourself, as there are literally hundreds to choose from. The central region of Visayas is mostly smaller island clusters and famous for Boracay Island's White Beach and surrounding resort and aquatic activity areas. Please check out our photos posted on our forum. by Julian, they are stunning. Make sure to explore the island's less crowded, but just as white-and-turquoise beaches.
The southernmost region of Mindanao is home to Davao, the largest city in the world by land area, and the stately Mount Apo, the Philippine's tallest mountain. Enjoy a thrilling river rafting trip in Cagayan de Oro or get back to basic Filipino life in the Tiruray Highlands where the remote shores of Lake Cebu are peacefully inhabited by the T'boli tribe.