Senior Travel Tips for Singapore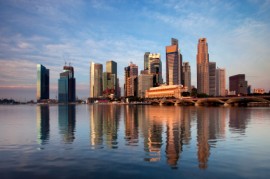 Delightful country-city-island Singapore is a great place for senior travellers to discover Asia. An accessible, clean and modern place, Singapore is extremely safe and the government does a lot to keep the city crime and litter-free. Additionally, the over 50's enjoy the advantage of being most highly respected in Asian cultures, and that includes Singapore.  I usually recommend Singapore to travellers who have not been overseas much and maybe a little nervous about culture shock.  It is an easy place to explore, feel safe and whet the appetite for more travel.
The city is home to a mishmash of cultures, including Chinese, Indian, Malaysian and Thai, so it makes a great place to discover all of these cultures in bite-sized form. Its incredibly fast, modern public transit system also caters to travellers, allowing access to the entirety of the island of Singapore and the outlying islands. And because Singapore was a British colony until 1940, most people here speak English.
Public transport. Singapore's mass transit system, the MRT, is ubiquitous and covers the entire island with a network of light and underground rail lines. These clean and speedy railways are the best way to get around Singapore, even for older travellers, as all of the stations and trains are equipped with accessibility features like lifts, escalators, ramps and handrails. While Singapore also has a wonderful bus system, travelling by train is really the way to go, especially for seniors. Australians can also take advantage of the Singapore Tourist Pass, an unlimited 1, 2 or 3-day card that grants unlimited access to the city's entire mass transit system. A 3-day pass costs around AU$24.
Health. Singapore is undoubtedly the easiest place to travel in Asia, and that extends to health concerns. The streets are kept meticulously free of debris (in fact, it is illegal to sell or distribute chewing gum within the entire country!) and shining downtown skyscrapers gleam. Even the tap water here is drinkable, which is a nod to the government's commitment to making Singapore into a truly 1st world destination. Because of this commitment, though, laws here are much more stringent, and this even extends to tourists. When coming through customs and border patrol, make sure that any medications are in their properly-marked bottles and that you carry all of your prescriptions (showing your name) with you at all times.
Heat. Singapore sits just a few degrees north of the equator, meaning it enjoys a tropical climate year-round. Senior travellers should be particularly careful of the high temperatures and humidity here, taking care to always apply sun cream liberally, wear hats and long sleeves, and avoid walking outside for long periods of time. Luckily, Singapore is well equipped with state-of-the-art air con systems, so it is easy to escape the heat for a few minutes inside a café, museum, mall or subway station. When packing, forego warm clothes and opt for lightweight, breathable clothing in fabrics such as cotton and linen. A sunhat is also highly recommended.
Cultures. There is no better place to get a feel for a variety of East and South Asian cultures than in Singapore. The city boasts lively cultural quarters that include Little India and Chinatown. Here, you can taste the flavours and enjoy the arts and shopping of these multi-faceted cultures, all in one day. Furthermore, Singapore's own unique Malay culture offers a wonderful selection of cuisine and traditions that combine all of the city's unusual pastimes.
Unique Shopping. Along with Singapore's multitude of cultures come some amazing shopping opportunities. Within the lively Chinatown and Little India districts, you can find an assortment of inexpensive, distinctive clothing and trinkets to bring part of Singapore back home.
Arts and Attractions. Singapore has no shortage of fun and interesting things to do. In addition to its multi-cultural districts, Singapore has a number of museums and historic sites, including the National Museum of Singapore, where seniors can enjoy 50% discounted admission and free entry into the Singapore Living Galleries after 6 pm daily. You might also want to pop into the historic Raffles Hotel to enjoy a Singapore Sling cocktail in the bar where it was first invented! Singapore is also well-known for its natural surrounds, including nature reserves, parks, beaches (many of which offer free admission all the time) and its world-famous Singapore Zoo, where the Night Safari gives visitors a unique evening look at more than 1000 nocturnal animals from around the world.  Singapore is also well known for its food.
You'll want to check out the Your Singapore website for an interactive exploration of the entire city and a useful online trip planner.