China Travel Tips for Seniors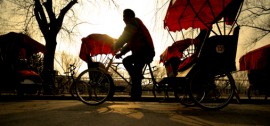 China is undoubtedly one of the most alluring and intriguing places on earth. For many, it also seems like an impossible place to visit. However, tourism in China has changed drastically over the past decade and it is an increasingly accessible place for many travellers. You don't have to be a gutsy backpacker willing to rough it to see the Middle Kingdom anymore. In fact, according to Chinese culture, the older you are, the more honoured you are. So check these China travel tips and pick up a Mandarin phrasebook and get out your best-hiking boots for a short walk up the Great Wall!
Get on a guided tour. You might feel overwhelmed at the idea of getting around China. Perhaps the language barrier seems insurmountable or you are worried about the general safety and quality of transportation there. The best way to see China is to sign up for an all-inclusive tour. These package deals are the most common way that both international travellers and domestic Chinese tourists travel, so there are literally thousands of packaged tours available, many of them specialising in seniors travel groups. Signing up for a package deal, you will be taken care of from airport to airport with no hassle.
Ask about discounts. Many stores, sights and transport options will have seniors travel discounts available, but you'll have to ask about them. In and around Beijing, many attractions such as the zoo, Great Wall and Summer Palace now offer half-price admission to seniors over 60. They accept passports or driver's licenses showing the date of birth on them as proof of age.
Transport deals. Hong Kong is an attractive destination for the senior traveller, not just for its beauty and plethora of beautiful hotels and great restaurants, but for the discounts! Senior travellers (65+ with a senior ID) can ride the Star Ferry across Hong Kong harbour for free. Seniors can also purchase the Octopus Elder Card, which works on all of Hong Kong's public transportation options, and gives varied discounts depending on whether you take the bus, MTR trains, or ferries.
Flight deals. Air Asia is a low-cost airline that flies all over Southeast Asia, including China and Hong Kong. Air Asia has open seating, but seniors 55+ can pre-board flights and get their choice of the best seats. Cathay Pacific, the official airline of Hong Kong, also often runs seniors travel specials that, in the past, have included 50% off flights to Hong Kong. You must be a member of their newsletter to find out about the upcoming deals. They also run a Worry-Free Fare for people 55 and over from selected U.S. cities, with flexible travel dates, no change fees, and reduced fares.
Health. China is definitely a modern nation in many respects, but in others, it is still developing. There are relatively few amenities for disabled people and you will likely find yourself walking, climbing stairs, and battling climate and pollution issues while you're there. Consult your doctor before you make plans and be sure to carry an extra supply of your prescription medications with you (including the scripts showing your name). Also, be sure to keep a good supply of tissues with you at all times. These can be purchased in any small convenience store or shop around China. It is uncommon for toilet paper to be provided in Chinese bathrooms, so you will need to carry your own.
Safety. As in any country, in China tourists can easily be targets of petty crime. Look around you for suspicious activity and keep watch over your wallet or handbag in crowds. Do not follow any strangers that offer to help you or show you around, no matter how well-intentioned they may seem. Additionally, you can utilize bilingual business cards (often with a map) provided by your hotel or tour guide in case you get lost.
Expect lavish meals. In China, food is one of the most important aspects of life. China has a long culinary history and many rich food traditions. On your tour, you will likely find yourself seated at a large, round banquet table feasting on dozens of unique, delicious dishes.
Throw out the stereotypes. Perhaps when you think of China, you imagine a third-world country where everyone wears little Mao caps and rides bicycles. Of course, those things do exist, but China is now a thriving modern nation with the types of amenities available in most countries. Beijing and Shanghai are huge metropolises similar to New York or Sydney. It is a country where you can experience 5,000 years of history and see the future at the same time.
Utilise business cards. Business cards are all the rage in China – everyone has one! Your hotel and tour guide will both offer you business cards, most likely bilingual ones, and often with a map that you can use to find your way back. Be sure to carry these with you in case you get lost.