Thailand Travel Advice: Being a Respectful Traveller in Thailand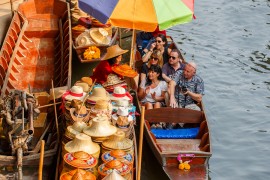 Thailand is popular destination. Home to buzzing cities and nightlife, as well as lush jungles, tropical islands and some of the world's best beaches, it's got a lot to offer anyone who visits. A trip to Thailand is also an opportunity to experience a different culture – but with that comes some risks.
Recently, tourists were arrested in nearby Malaysia for posing naked on a mountain. They had underestimated the cultural significance of the mountain and ended up in trouble with the law. To avoid such a disaster on your visit to Thailand, it's worth getting clued up on important laws. We've picked seven of the most important Thailand travel advice – check them out:
1.    You'll have to carry money
When you enter Thailand as an international traveller, you're supposed to be carrying a minimum of $125 (£80) to $250 (£165). It's one of the hidden costs of travelling that can catch you by surprise, according to Vouchercloud. So make sure you budget for this cash necessity.
2.    Your passport should be in good condition
In Thailand, you don't just need to be carrying your passport to enter the country – it needs to be valid for a minimum of six months after your date of entry to the country. You also need to check the condition of your passport, as you can be refused entry for things like missing pages or other damage.
3.    You must respect the royals
You've got to be careful how you speak about the King or any member of the royal family in Thailand, as it's illegal to criticise them. The offence, known as Lèse Majesté, can land you with a prison sentence of three to 15 years, or longer.
It also applies to previous or deceased monarchs and is particularly pertinent now as the country is in a 12-month mourning period of the death of King Bhumibol Adulyadej.
4.    You might need a permit to take certain items home
When travelling, you'll probably want to bring a few souvenirs home with you – as gifts to friends and family, or memories for yourself. But be careful what you pack before you leave Thailand. You're not allowed to leave with any images of the Buddha, religious art or antiques without a permit.
5.    The law is tough on drugs
With a relaxed, tropical atmosphere and world-famous full moon parties, you might assume Thailand has a laid-back approach to drugs. But you'd be wrong. The punishments are severe for violating drug laws in Thailand – including life imprisonment and the death sentence.
There are also rumours of the police setting up tourists by offering them drugs, and then arresting them if they accept – it's best to just avoid drugs.

6.    It's illegal to leave the house without underwear
Unless you're accustomed to strolling the streets without any underwear, this law shouldn't cause you too much stress. But, as One Step 4ward points out, just don't head out without your trousers, too – that'd be a dead giveaway.
7.    You'll be heavily fined for littering
Before you throw your rubbish aside in Thailand, remember it could cost you a fortune. You could be fined $2,000 Baht or more if you're caught littering on the pavement. That's a quick way of denting your travel budget and ruining your trip – so find a bin.
Have you visited Thailand? Share your experiences with us.