Top 10 Melbourne Activity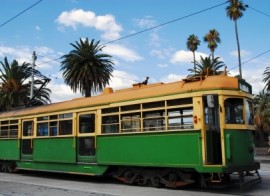 With most people, and especially schoolies, heading north for a holiday at this time of year, it's a smart move to buck the trend and visit Melbourne. Here are 10 fun and interesting Melbourne activity (even if you live there).
1.    Ride the free city circle tram. It has been around for years, but it's still one of the best ways to take as a Melbourne activity. Why not take the grandkids during their school holidays.
2.    Visit the new National Sports Museum at the MCG. While you're there, tour the MCG and see the players' change rooms and the Long Room, and walk the arena (subject to availability).
3.    Get lost in the backblocks and laneways of the city centre. Take an alfresco table at one of the many cafes and watch the world go by. It's almost like being in Europe.
4.    Take a chocoholics tour and sample the city's sweet delights.
5.    Take one of Melbourne's many shopping tours. They're your entree to a local secret: the great shopping finds in the basements and small laneways.  
6.    Explore Melbourne's coffee trail with Melbourne's top barista. The tours are run by Maria, a well-known barista judge, barista trainer and coffee connoisseur. 
7.    Tour the historic Carlton United Brewery (CUB) and learn how some of Australia's most popular beers, including Carlton Draught and VB, are made. You'll even get to pull your own beer at the bar. Definitely another Melbourne activity that you shouldn't miss.
8.    Tour Melbourne Cemetery, the resting place of all manner of people who have helped make Melbourne what it is today – musicians, actors, scientists, preachers, con men, remarkable women…
9.    Stroll through a weekend Melbourne market. They're in various locations and they cater to all tastes and interests, from old-fashioned trash 'n' treasure to the foodie delights of the farmers' markets. Add this to your Melbourne activity checklist.
10.  Take a half-day tour guided by a local. The Melbourne Greeter Service is a free two to four-hour walking orientation of the city for visitors and tourists.
And check out this site:  Free Things To Do In Melbourne