10 Reasons To Visit Paris in Spring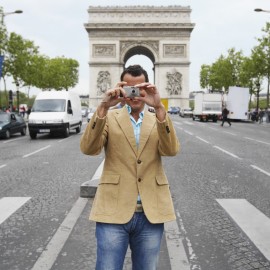 Paris is a great destination for all throughout the year. But get ready to discover the surprising romantic and festive vibes of Paris in spring.
1.  Enjoy the festive atmosphere and incredible weather.
2.  Avoid the Summer hoards of tourists.
3.  Paris is in full bloom.  The gardens offer hours of free entertainment in the most glorious and historic settings.
4.  Enjoy the local morning markets.  Buy your gourmet delights and head of to the gardens and watch the world go by.
5.  New season spring menus at every restaurant.  Look for the plats du jour – special deal of the day.  Always comes with a glass of wine and usually a bargain.
6.  Romance everywhere!  Kissing, hand-holding, gazing, you name it, the French are more in love in the Springtime.  Singles, don't despair, you will have admirers everywhere, I promise, I lived for 6 months in Paris as a single woman!
7.  Outdoor cafes are the place to be.  I recommend Saint Germain, The Latin Quarter on a Saturday afternoon around 4 pm.  Watch the French enjoy life and relax.
8.  Check out the best window boxes you will ever see!
9.  Enjoy a day on the hop on hop off open-top bus – on top of course.  Admire the exquisite buildings – my favourite, the Paris Opera.
10.  And finally, Cole Porter and Frank Sinatra told us to visit Paris in the Springtime…they were certainly on to something.