UK Travel Tips for Seniors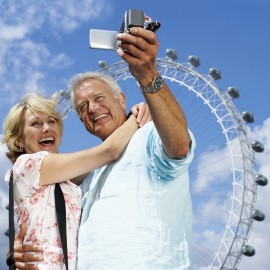 The United Kingdom is one of the top travel destinations for Australian seniors, thanks to the long-standing links between the two countries. In fact, many of the top UK sights like Buckingham Palace, Westminster, the Tower of London, and others will be on plenty of Australians' must-see lists. The great thing about seniors travel to the UK is that it's easy to get around without any language barrier, and the culture and society will of course take little figuring out. Best of all, there are lots of things for you to see and do in the UK whether they go to England, Scotland, Wales or Northern Ireland. Check out our five top tips to make sure you get the most out of your holiday in the UK
Packing.  The United Kingdom's mild and rainy climate means you'll get cool weather at almost any time of year. Be sure to bring a raincoat and an umbrella, as you're certain to need them! Otherwise, it's best to pack a lot of light layers that you can put on or take off depending on the day. If you bring a mobile phone, laptop, or another electrical device, you'll need a converter to use your plugs in the UK. The easiest way to do this is to buy the UK or world adaptor at the airport before you go.
Health.  You must always take travel insurance, but Australians do have a reciprocal agreement with the UK when it comes to health.  Australians travelling to the UK for less than three months who wish to seek treatment under the reciprocal agreement first need to contact the NHS  (telephone 0845 4647) to check whether they are eligible for treatment under the agreement.  For more information on our reciprocal arrangement, please go to the Australian Government Smart Traveller website.  In case of an emergency in the UK, dial 999.
Easily accessible London.  I love this website!  London has a great website for wheelchair-bound visitors and those wanting easy access to the city.  It provides information that will assist on arrival – public transport or car through to enjoying your stay in the iconic city – accommodation, restaurants, theatre, and attractions.  It also notes features such as low-level counters, facilities for the visually impaired, and hearing induction loops.  The site also provides fantastic maps that are specifically geared to assisting you to enjoy the city with easy access.  It is not just for wheelchair travelers, but for those who just want to know how to get around a bit easier.  A great site. Accessible London.
London Pass.  For hassle-free sight-seeing, I highly recommend the London Pass. Benefits include skipping the queue.  Trust me, to get into some of the more popular attractions, we are talking hours in the queue, particularly during Summer, genuine cost savings, all-round convenience, and a free travel guide. Click here and you will get a voucher for a further 5% off.
Transport.  The Senior Railcard entitles anyone over 60 to about one-third off most rail fares around Britain. It costs AUS$43 for a year and is available from. Once you have the card you are also entitled to a range of discounts on things like concert tickets and hotel bookings, so it's worth the investment even if you're just visiting. Bus travel discounts only apply sporadically to international seniors depending on which council area you are visiting, so don't be afraid to ask but be ready to pay the full rate where applicable. The National Express coach service, conversely, offers up to 50% off its tickets to anyone over 60. Similarly, most ferry companies will give international seniors a discount with proof of age. 
Britrail.  Australians receive great seniors travel discounts on Britrail and the Eurostar at Rail Europe Australia
  You need to book and pay for these passes before you leave Australia.  They are only available to international tourists.
Ancestry Genealogy is a very popular hobby these days. If your ancestors are from the United Kingdom, you might like to look them up during your stay. You can search the genealogy records before you go to National Archives, and then make a visit to the National Archives in Kew, Surrey, or the relevant local authority's records department to get copies of your family's birth, marriage or death records. While some of these can be ordered online, you still get the best results by being there in person.
Fun  There are plenty of different ways to have a great time during your stay in the UK, whether you've been there dozens of times or if it's your first trip. There are more than 4,000 museums and galleries you can visit, for example, and many will either be free of charge for all or will offer a discount to seniors carrying proof of age. Check out www.culture24.org.uk to get the most complete listings of cultural sights, museums, and activities. If you're interested in walking, you can find out about the many rambling trails across the UK at www.ramblers.org.uk.
London Underground.  Plan your stay in London and download the London Underground maps before you leave home.
For ongoing great deals to the UK, please check out:
New Young Travel discounted travel websites.  We have done the research for you and the best sites on 1 page.
Escape Travel has terrific accommodation and land deals for the UK.  Starting at 3 nights for AUD249pp including breakfast. They are so cheap you cannot pay by credit card, you must pay cash or BPay. Being a part of Flight Centre means they have access to great airfares as well. Conditions apply.