Travel Advice to Germany for Seniors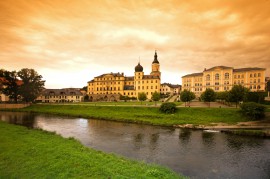 As one of the largest nations in Western Europe, Germany is a country rich in contrasting sights for the visitor to enjoy. It's got both historical villages and cosmopolitan cities plus beautiful natural scenery, from pristine green forests to gleaming lakes to fairytale castles. Best of all, it's a very senior-friendly country that has one of Europe's oldest populations. You'll pick up plenty of great seniors travel discounts if you look out for the senioren category on price lists. Check out our top travel advice to Germany to get the most out of senior travel holidays.
Travel and save.  One great way to see a chunk of this vast country in a short timeframe is to take a scenic train journey. German rail operator Bahn offers a 50% discount to seniors on its Rail Card (available from www.bahn.com), which entitles you to half-price train journeys around the country, including high-speed lines. It also gets you free tickets on KD boat trips as well as discounts on some coach travel. If you're just planning to stay within one place, you can still get discounts on the metro in all the major cities. But make sure you compare your prices with Rail Europe as depending on what you are doing, it can be cheaper to buy a Eurail Pass before you leave.  They also have a great deal – happy-weekend tickets, that allow you to travel anywhere in Germany for the weekend for 35 Euro.
Sharpen your language skills. It's great to be able to speak another language, no matter what age you are. It's also a great way to fully experience a new culture and meet interesting people. Learningtraveller.com offers language and culture courses specifically for the over 50s. The one- and two-week courses are held in the picturesque town of Ellwangen in southwest Germany and include accommodation and meals in the booking price.
Take a river cruise. While cruising has become more popular, so has European river cruising. The mighty Rhine river has dictated much of Germany's development through history. You can get a great sense of this story, plus see many of the country's top sights, by taking a German river cruise. There are many river cruise companies, too many to mention.  They tend to specialise in the over 50's traveller so be sure to ask about senior travel discounts.  These boat trips are great that take in the beautiful castles and lush landscapes of the Rhineland. Meals, day tours, and accommodation are all part of their package deals so you know what you are up for before you board.
History. If you're a history buff, you'll definitely want to visit Berlin, where a number of different museums and historical sites tell the story of World War II. Once you have a good guide book you can get to these sites yourself without even needing a tour guide. You can see the Nazi government district, the site where the Holocaust was planned, the scene of the German surrender in 1945, and many other fascinating and moving museums and ruins from this dark time in world history.
Spend a unique Christmas. Berlin's Christmas Markets have a reputation for being among the best in Europe. The city is decked out in beautiful fairy lights all December long, with some 60 locations around Berlin making up the market scene. There are many different ways to enjoy this winter magic whether you want to browse the vendor stalls for unique handicrafts, taste some delicious mulled wine, take a historic carriage ride or see some great outdoor music performances.
Spoil yourself at a spa. Germany is a great place to go for some pampering, being home to more than 900 spa resorts. Mineral spas, mud spas, health resorts, seaside resorts, and hydrotherapy spa resorts are all available here. The resort town of Baden-Baden in southwest Germany is a particularly good spot to visit. Look out for the public baths, where you can spend all day moving between different pools for a fraction of what it would cost to visit a spa resort at home.
Hear some great music. The German city of Leipzig has a long history of great classical music, being the home of celebrated composers like Johann Sebastian Bach and Felix Mendelssohn. You can take some fascinating walking tours in this city which feature many aspects of Bach's life as well as a visit to Mendelssohn's home. The Gewandhaus Concert Hall hosts regular top-notch performances throughout the year, including an annual Mendelssohn Festival each August and September.
Accommodation.    As you may well be aware, I am a great fan of the hostel, no matter what your age.  And if there is one country that does a hostel well, it is Germany.  Having experienced many hostels across the country, if you are a little nervous, this is probably a good place to start.  In my experience, they tend to be well managed, clean as well as catering very well to the senior traveler.  Most hostels have great single and double rooms as well as the usual dorm style.  You can pre-book your hostel on hostelbookers.com.
Berlin Flats.  There are hundreds of apartments available to rent for short term holiday accommodation in Berlin.  These apartments, known to those in the know as Berlin flats are a leftover legacy from Eastern Block Berlin and offer a great insight into life in East Berlin.  Many have now been converted to tourist style apartments with full facilities.  They offer a great value alternative to hotels and tend to be much cheaper.
Beer.  And of course, we cannot talk about Germany without mentioning beer.  Lonely Planet has come up with the top 6 German Beer towns…
Imbiss. Eating on a budget in Germany is easy if you stick to the local Imbiss food outlets.  Germany's alternative to fast food can be found everywhere from deli's, bakeries to local butchery's.  The Imbiss tends to consist of local fare – sausages and sandwiches as well as kebabs and other international 'fast food' like naan bread.
Accessible Travel. For information on accessible travel, including hotels, attractions, and museums, go to this site.