Top London Attractions For Lovers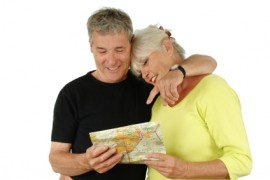 Even though Paris is renowned for being one of the most romantic cities on the planet, authors Sophie Vickers and Sam Hodges believe that London can be just as ideal for a passionate relationship. Having released a book in 2013 called "London for Lovers", the pair say that "There are ideas … to suit every mood, every season and every budget" in England's capital city. Whether you're planning to catch a flight to London to pop the question to your loved one or want to add a bit of romance to a long-term relationship, you can read on for five of the top London attractions to spend some quality time with your partner.
Petersham Nurseries Cafe & Teahouse
If you want to enjoy quality food in a lovely atmosphere in London, the Petersham Nurseries Cafe & Teahouse is a wise choice. Located in Richmond, the restaurant provides Michelin-starred food in a striking setting that features potted plants, of course, plus salvaged artworks and stylish kitchen wares. Start the day off well by hopping on a riverboat at Westminster Pier and enjoying the meandering pace as the vessel works its way up the Thames, heading past Kew and Chiswick, through a lock and on to Petersham, a quaint suburb that is a designated conservation area. Known as one of London's best places to enjoy fresh, seasonal, and local produce, Petersham Nurseries Cafe is the perfect place to get away from the everyday hustle and bustle of London.
Eel Pie Island
Even many Londoners are not aware of the secret little island that sits in the middle of the River Thames at Twickenham. Once host to famous international acts such as The Rolling Stones, The Who, Pink Floyd, Eric Clapton, and David Bowie in its concert venue, Eel Pie Island today is home to a thriving artists' community. To access the island, visitors walk across the footbridge that separates the residents from the Twickenham embankment. The private community island can only be visited twice during the year when artists open their studios to the public on specific weekends, but this limited access makes the excursion all the more special. When you visit, be sure to learn about the intriguing past of the island — it used to be the top spot for scandalous parties in London; Charles Dickens used to stay at the local Eel Pie Island Hotel regularly to dance the night away. The island was even the setting for a 1932 murder mystery novel.
Chocolate Ecstasy Tours
With chocolate long-considered an aphrodisiac, it's no wonder that a chocolate tour of London would make the romance list. You're sure to earn plenty of brownie points with your partner if you take him or her on a chocolate eating tour of London with the original Chocolate Ecstasy Tours — the first company in the city to specialise in this type of activity. The tours take participants to the very best locations around London in order to taste a variety of specialist chocolates. Customers receive discounts on tasty treats and learn about chocolate facts, tips, and secrets. The tours last from 2.5 hours up to an all-day extravaganza and include a tasting session at each stop along the way.
Royal Observatory Greenwich
After eating your weight in chocolate you might like to consider burning off a few calories with a climb to the top of Constitution Hill in Greenwich.  You can enjoy breathtaking views of London and, at night, some stargazing in Christopher Wren's Royal Observatory. You and your loved one can also have fun standing on either side of the Prime Meridian, Longitude 0, by standing with one foot in the west and one in the east.
The Wrapping Project
Another restaurant with a distinction, The Wrapping Project is also an exhibition and performance space, created by theatre director and curator Jules Wright. Located in a huge former hydraulic power station (not your typical fine dining setting) the establishment is super hip, architecturally impressive, and boasts excellent food and artworks. Fitted-out with modernist furniture, massive hooks dangling from ceiling chains, and abandoned machinery, this is a venue you and your loved one will be talking about for months to come.
About the Author: Sue Oswald is a travel writer and blogger with a passion for romantic vacations, five-star hotels, and couples-only resorts.