Back Roads Touring – Europe With A Difference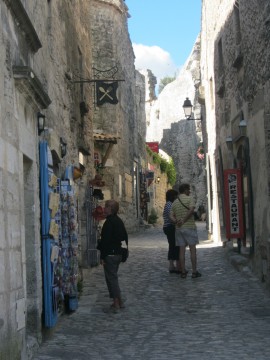 Small bus tours of Europe often conjour up an image of doddery senior citizens too infirm to get around on their own, but my recent 11-day trip of Provence and the French Riviera with Back Roads Touring was anything but.
I lost a bit of weight and greatly improved my fitness with up to six hours walking a day. A 73-year-old woman from New Zealand constantly outwalked all of us. And put me to shame.
I had never done a group tour like this. Except for another woman travelling without her partner, everyone else was in a couple and aged in their late 50s and over 60. And better travelled than me. This was a group of tech-savvy mature travellers from Australia, Canada and New Zealand who shared earthy humour and explored with the curiosity and energy of people half their age. John, a Canadian man with a flowing grey beard, took all his pictures on an iPad. He looked so hip.
The Back-Roads Touring schedule was full-on but well-paced. We started in the picturesque seaside city of Nice, visited nearby Monaco, and then explored St-Jean-Cap-Ferrat, the film festival city of Cannes and then onto the port of Cap d'Antibes before we headed inland to eat, walk and drink our way through the delights of Provence.
Most mornings it was an early start – driver and guide Jeremy Rose had us packed onto the bus by 9 am. The advantage was that we arrived at our morning destination long before massive tour buses roared up the road, and before the heat of the day began.
We weren't shepherded around. Most of the time Jeremy dropped us off with helpful tips and left us to delve, shop and sightsee at our own pace.
Only twice did we drive on the motorways. The remainder of the tour was meandering through the winding back roads where the Mediterranean scenery and rustic villages unfolded. Historic villages were mostly in mountainous terrain. I had to pause and take a breath now and then – at a cafe of course.
We stayed in boutique-sized hotels which were appreciated. They were quiet at night, cosy, friendly and atmospheric. When I left my jewellery and passport behind at one of them, it was all returned intact the following day.
My tour highlights:
* The hillside Villa Ephrussi de Rothschild (on the St-Jean-Cap-Ferrat Penninsula) – where nine acres of gardens have nine different themes ranging from ornate Italian to delicate Oriental
* St Paul de Vence – one of the oldest and best-preserved medieval towns in Europe where the shopping is to die for
* Aix en Provence – a bustling art-filled city where the Saturday produce markets are a feast for the senses
* Lunch at the Rhone vineyard of Quatre Filles where we arrived for the first day of harvest and ate under the shade of massive trees with the vintners
* St Paul de Mausole – the sombre but beautiful hospital where Van Gogh was incarcerated and painted 160 works during his year-long stay. Art is still used as therapy for patients
* The gritty city of Arles where the maze of back streets revealed cafes, bars, boutiques, galleries and mouth-watering boulangeries
* Pont du Gard – the UNESCO-protected ancient Roman aqueduct bridge crossing the unspoilt Gardon River
* Gordes – the mountaintop historic village commanding vast views over Provence, which also serves as the gateway to the Luberon Valley (also known as Peter Mayle country!)
* My fellow travellers – a heartwarming bunch I would love to see again on another tour.
Heather Tyler is the editor and chief adventurer at www.tastefortravel.com.au, a travel blog for like-minded women who like to share curious adventures and food for thought.