Must-See Great Ocean Road Sights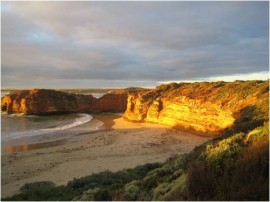 One of Australia's most classic road trips, driving the Great Ocean Road can be a leisurely, relaxing way to see some of the country's most memorable landscapes. It covers 243 kilometres of coastline; passing through sunny beaches, quaint port towns and fishing villages, and forested national parks. Whether you're making the drive alone or bringing the grandchildren along, you'll find no shortage of sights worth a second look. The following are a few must-see Great Ocean Road Sights to make as you start this legendary drive from Torquay to Warrnambool.
Great Otway National Park
Although Australia is filled to the brim with tranquil nature preserves, Great Otway National Park is notable for its rainforest habitat, secluded beaches, and diverse wildlife. You may spot kangaroos, koalas, and platypus in their natural habitat on your journey through this stretch of the Great Ocean Road. If you're feeling daring, the Otway Fly treetop walk gives you a bird's eye view of the colourful rainforest scenery.
The Vault and Hastings Ostrich Farms
There are excellent shopping opportunities in many of the seaside villages that dot the Great Ocean Road. One of the most unique shopping experiences that you'll find along the way is located in the former Winchelsea National Australia Bank. The Vault holds a wide selection of exotic leather products made from kangaroo, emu, ostrich, and crocodile leather. There are also ostrich feather dusters and boas, and products created by local artists. The adjacent Hastings Ostrich Farm houses over 3000 birds, with several varieties of ostrich represented. If you're looking for a truly unique Australian souvenir, this is an ideal stopping point.
The Twelve Apostles
A true must-see on any trip along the Great Ocean Road is the Twelve Apostles. This is one of the most famous sights in Southern Australia, placed in Port Campbell National Park. The Twelve Apostles are gigantic limestone formations erupting from the deep blue of the ocean. Perhaps even more memorable is the sight of the cliffs behind these stacks which change colours as the sun rises and sets, creating an almost mystical effect.
Port Campbell
A historic port town just a few minutes away from the Twelve Apostles, Port Campbell makes a perfect stopping point along your journey. The beach is dotted with seafood restaurants and colourful art galleries to explore, and there's no shortage of charming B&B's if you're looking for a place to spend the night. During the daytime, enjoy outdoor activities like boat tours or scuba diving to gain a different perspective of this bustling seaside town.
Logan Beach
If you're driving the Great Ocean Road between the months of June and September, you're likely to see some Southern Right Whales along the way during their annual migration. One spot to view them is the Cape Otway Light Station, but Logan beach at Warrnambool is also ideal. Logan Beach is also known as the Southern Right Whale nursery due to the fact that so many whales stay here to nurse their young. There is a whale viewing platform to help you get just the right position to see these amazing creatures in their natural habitat.
If you only have a couple of days, you can drive along a shorter stretch of the route. Yet it's well worth taking more time to find additional hidden gems. For longer motoring trips, you may wish to hire or purchase a larger vehicle to spread out in comfort. This is a road trip that's ideal for all ages and abilities because it's so customisable depending on your interests.