Road Trip in Australia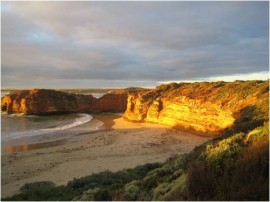 The locals call it 'the big island' and at 7.7 million Km there is a lot to cover on a road trip in Australia. This is a diverse country of beautiful beaches, immense stretches of wilderness, mountainous terrain, national parks, and vibrant cities.
A road trip through Australia is also a great option for cheap holidays and can include some of the country's most famous landmarks.
Take the Great Ocean Road
The 1000Km drive from Melbourne to Adelaide will provide sightseeing opportunities such as the amazing waterfalls at Otway National Park and the immense Cape Bridgewater sea cliffs. You can watch whales at Warrnambool and enjoy a spot of wine tasting at Coonawarra. On this drive, you will pass through picturesque coastal towns such as Port Fairy and don't miss the chance to view the spectacular 12 Apostles limestone stacks at the Port Campbell National Park.
The Northern Territory
If you are looking for some outback adventure road trip in Australia then make the third-largest Northern Territory town of Alice Springs your starting point. A five-day driving trip from Alice Springs can include Fink Gorge National Park featuring the magnificent Finke River and then onto Kings Canyon, which is a 20Km crater created by a comet over 140 million years ago. Take a dip in the warm tropical waters at the Garden of Eden and then head towards Uluru National Park.
This trip can culminate by getting out of the car and starting the morning with a camel trek to watch the sunrise over the Australian icon known as Ayers Rock.
Traversing Western Australia
Eight days on the Gibb River Road should be enough to travel from the towns of Derby to Wyndham; Wyndham is the oldest and most northern town in the Kimberly region. This 660Km trip contains some of the most spectacular scenery you are likely to witness. The Kimberly coastline will reward visitors with dramatic sea cliffs and stunning ocean views. This trip includes Winjana Gorge National Park, the famous Mitchell Falls, and the one million acre El Questro Wilderness Park.
A camera is a must as you will spot crocodiles and humpback whales on this drive through the wilderness.
Sydney to Melbourne
Australia is home to 50,000 kilometres of coastline and the Sydney to Melbourne trip features some of the best coastal scenery. Spend seven days on this trip and you can watch the whales in Eden, enjoy the white sand beaches at Jervis Bay and take a boat trip on the immense 354²Km Gippsland Lakes. This trip includes two national parks; Croajingolong and Wilsons Promontory. Before reaching Wilsons Promontory you can enjoy the beauty that is Ninety Mile Beach. This is definitely a trip for beach lovers and there are charming seaside towns and many deserted beaches along the way.
It's no surprise that people take an extended road trip in Australia: its changing landscapes make it one of the most diverse countries you've ever seen, with some of the world's best spots for natural beauty.