Seniors Guide To Campervan Hire In Australia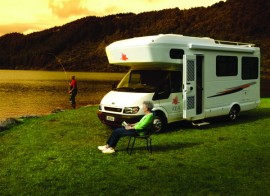 Who could possibly resist the temptation to roam around freely and still have the comforts of a mobile hotel room anywhere you go? A campervan holiday gives you all these possibilities, way better than driving around with your everyday automobile. Here are tips in preparing for your campervan hire and are customised for seniors to make sure your motorhome road trip is easy and hassle-free.
Choose a motorhome with a permanent bed
Most 2 Berth campervans have bench seats that can be folded out into a double bed. You can choose to set up the bed permanently, get a picnic table and chairs, and dine outdoors instead. If there are more than 2 people traveling, you can also get a 6 Berth motorhome that has double beds in the main and rear area to avoid climbing into the overhead cabin. An added bonus: The larger vehicles are self-contained, so you also get a private shower and toilet. MyDriveHoliday Australia Campervan Hire eliminates the need to check several different companies by providing you with an easy way to compare vehicles and rates with a 3-step booking system. MyDriveHoliday offers hassle-free Campervan Hire Australia by providing you the easy way to instantly compare vehicles and rates with a 3-step booking system.
Know the age limit to rent a motorhome
For our second campervan hire tip, the maximum age for drivers is usually 75 to 80, and if you are a little over the maximum, you can still hire a motorhome, as long as you have a medical certificate indicating that you are fit to drive. You can easily get a medical certificate from your own doctor.
Go for the All-Inclusive package
What's not to love about the "All-Inclusive Package?" You're not only getting the maximum insurance cover that reduces the excess/liability to the least possible amount, since the package provides you with great freebies like linens and beddings, kitchen equipment as well as camp chairs and table. Some motorhome rental companies also offer coverage on damage to the more sensitive parts of the vehicle, like the tyres and windscreen.
Set the Best Dates for Your Travel
Unless you enjoy large crowds and jostling tourists, it would be best to avoid the school and summer holidays (see Australia Public Holidays). The weather is generally nicer during the dry season (April to November) see Weather And Seasons of Australia for more info. Plan ahead, you can also avail of lower rental rates and awesome deals.
Decide a Pickup and Drop Off Location
If you are renting a campervan you will have to choose a pickup and drop off location. If you decide to return the vehicle in a different location or depot, you will have to check with the operator or supplier they allow it. For some companies you will have to pay a one-way fee.
Plan your route
Want to see the shimmering red sands of Ayers Rock or try driving down the exhilarating Great Ocean Road? Grab a map and start looking for attractions and caravan parks close to the chosen destinations. You can download MDH Roadie Caravan Park Finder on your Android or iPhone.
Create a Checklist
Our last campervan hire tip is about preparedness. Ready for your great adventure? Make sure you prepare a camping checklist of things you'll be needing for the trip. Pack the important items first, like your prescription, driver's license, confirmation document, and medical certificate. Bring some warm clothing for cool evenings and other appropriate clothing for the intended destinations.
Let us know if you found our tips helpful, and your questions or suggestions are always welcome. We hope to see you on the road soon! – MyDriveHoliday Australia